Home
PROSECUTOR SEEKS 10 YEARS FOR HALILOVIC
Sefer Halilovic, former ABiH Chief of Staff and, as alleged in the indictment, the commander of Operation Neretva 93 "failed to do anything" to prevent and subsequently punish the murders of Croat civilians in Grabovica and Uzdol, the prosecutor noted in his closing argument. The defense will present its arguments tomorrow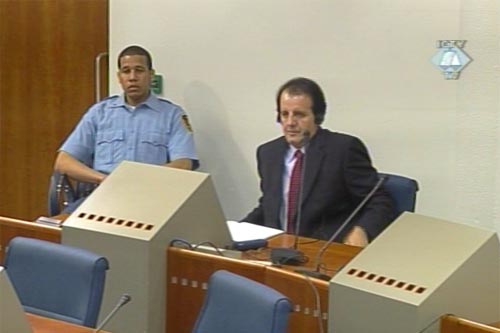 Sefer Halilovic in the courtroom
As the trial of Sefer Halilovic draws to a close, the prosecutor today states that Halilovic's command responsibility for the murders in Grabovica and Uzdol has been proven beyond reasonable doubt, and asked for 10 years in prison for the former ABiH Chief of Staff.
When the evidence "is seen in its entirety," the only reasonable conclusion is that Sefer Halilovic commanded Operation Neretva 93 and that he was the superior of the persons who committed the crimes against civilians, the prosecutors contend.
Countering the defense claims that Halilovic's effective control over the perpetrators has not been proven, the prosecutors note there is direct and indirect, written and oral evidence about such control. They quote the testimony of former BH Army commanders who said in court that Halilovic had been the overall commander in Operation Neretva 93. Furthermore, his command responsibility can be see from written orders Halilovic issued.
Prosecutor David Re analyzed in particular the Grabovica case to highlight "what Halilovic, as a commander, had to do, yet failed," thereby incurring responsibility for the violations of laws and customs of war. First of all, he assigned units with a bad reputation to participate in the operation, sent them to be billeted among Croat civilians failing to warn the troops about the rules of conduct. Even if the incident in which Vehbija Karic told the soldiers to throw into the river all those Croats who refused to billet them (Halilovic was allegedly present when this was said) never happened, the prosecutor contends that all the other evidence clearly indicates that Halilovic did nothing to prevent the crime in Grabovica.
"At that time, Halilovic was high on his own fame… which resulted in his wanton behavior," the prosecutor noted, reminding the court that the accused "failed to do anything" to prevent and later punish the murders in Grabovica and Uzdol.
The prosecutors counter the defense arguments that it has not been proven who committed the murders and how many victims there were by saying that the evidence does indeed give all this information. They say that some of the murders in Grabovica and Uzdol were witnessed and that witnesses saw the perpetrators, members of the 9th Motorized Brigade and the 2nd Prozor Independent Battalion. Some murders have been reconstructed on the basis of forensic evidence. The prosecutors believe they have proven that 27 murders were committed in Grabovica and 29 in Uzdol.
Sefer Halilovic's defense will present its arguments tomorrow. Before withdrawing to deliberate, the Trial Chamber will rule on a recent defense motion seeking that Sefer Halilovic be provisionally released until the judgment is delivered. The prosecutor informed the judges today that the prosecution is opposed to the release of the accused at this stage of the proceedings as a general principle.