Home
FOUR MONTHS FOR CONTEMPT OF COURT
Interfering with witnesses is "a very serious offence" because the Tribunal relies to a great extent on the sincerity of witnesses, Judge El Mahdi said as he sentenced Kosovo Albanian Beqa Beqaj to four months in prison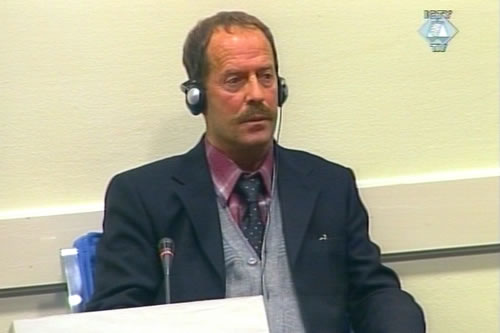 Beqa Beqaj in the courtroom
Kosovo Albanian Beqa Beqaj was found guilty today of contempt of court – for attempting to influence a prosecution witness –and was sentenced to four months in prison.
Beqaj has already served the sentence because he spent five months in the UN Detention Unit awaiting trial. The judges therefore ordered his immediate release from prison.
"Contempt of court committed by the accused [Beqaj] is a very serious offence, because the international court, in its work, relies to a great extent on the sincerity of witnesses," Judge Amin El-Mahdi said.
After they considered the six incidents alleged by the prosecutor, the judges dismissed the charges that Beqaj had intimidated, threatened and offered bribes to two witnesses that were to testify at the trial of Limaj and two other KLA members. They found evidence, however, that Beqaj "willfully and knowingly interfered with [a key] prosecution witness and the administration of justice".
Judges quoted the intercepted telephone conversations in which Beqaj urged the protected witness to withdraw his statement, because "Limaj and Musliu will be released immediately" in that case. In the same conversation, Beqaj says "We are not pressuring you as to [the third-accused] Bala".
Only the summary of the judgement was made public today; the entire text will be published in a written form later.