Home
GENERAL PERISIC PROVISIONALLY RELEASED
Trial Chamber grants provisional release to former Chief of VJ General Staff, charged with crimes in BH and Croatia. The execution of the decision stayed for 24 hours to give the prosecution an opportunity to appeal the decision. Perisic's statements to the OTP investigators have taken up 35 CDs. Ramush Haradinaj left the UN Detention Unit in The Hague and went back to Pristina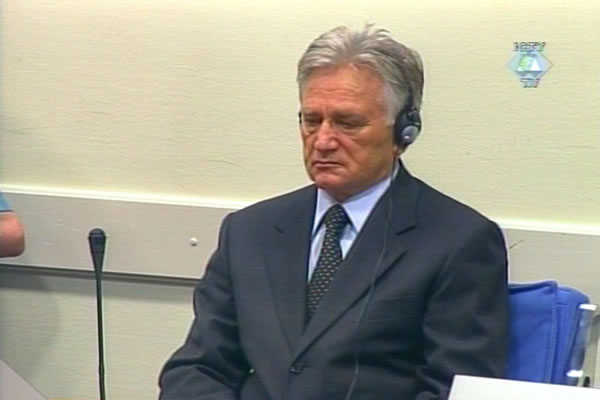 Momčilo Perišić in the courtroom
General Momcilo Perisic, charged with crimes in BH and Croatia, has been granted provisional release pending trial today. The Chamber has ordered, however, that he is to remain in detention for 24 hours more, to allow the prosecution time to appeal the decision. The prosecution opposed the provisional release of the accused.
Former Chief of VJ General Staff surrendered voluntarily to the Tribunal in March 2005, a few days after the publication of the indictment in which he was charged with providing personnel and logistic support to the Serbian Army of Krajina (SVK) and the Republika Srpska Army (VRS), whereby he contributed substantially to the shelling of Sarajevo and Zagreb and the crimes committed in 1995 in Srebrenica.
"The Trial Chamber is satisfied that the accused will return for trial and will not pose a threat to anyone," it is stated in the decision. The judges also took into account the fact that "the provisional release of other accused of a similar status has been granted recently on the basis of the guarantees given by Serbia-Montenegro and Republika Srpska". The decision stresses in particular the fact that "the accused has cooperated with the prosecutors, giving them detailed statements contained on 35 compact discs."
During his provisional release, Perisic will not be allowed to leave the Belgrade area, will have to report to the police every day, will not be allowed to have contacts with the other accused, victims and potential witnesses and to give statements about his case. The Chamber has also urged him to continue his cooperation with the Tribunal.
Ramush Haradinaj, another accused whose provisional release was granted on Monday, left the UN Detention Unit today. Haradinaj and Perisic went through a similar procedure: after their surrender and their plea of not guilty, they moved to be provisionally released pending trial. In both cases, the prosecution objected. The release was granted, with a 24-hour stay on the execution to give a chance to the prosecution to appeal. In Haradinaj's case, the prosecution did not file an appeal. It remains to be seen what they will do in Perisic's case.