Home
WHO WILL TRY MOMCILO PERISIC
The trial of Momcilo Perisic is scheduled to open on 1 October 2008 but the composition of the Trial Chamber that will try his case is still unknown because the UN Security Council has yet to decide to extend the term of office of the ICTY ad litem judges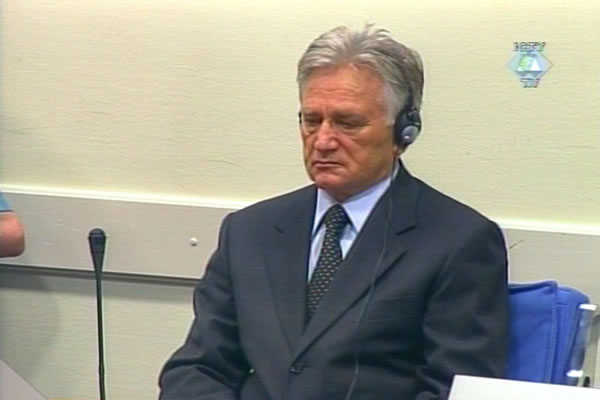 Momčilo Perišić in the courtroom
The trial of Momcilo Perisic, former Chief of the VJ General Staff, is scheduled to start on 1 October 2008, but this will depend on the decision of the UN Security Council to extent the term of office of the
ad litem
judges of the Tribunal.
At the last status conference before the trial, pre-trial judge Bakone Moloto – the most likely candidate to preside over the case – explained that the Trial Chamber which would try the Perisic case had yet to be constituted. Currently there are no
ad-litem
judges whose term of office extends beyond September 2009 and the trial is sure to last longer than that, as the pre-trial judge remarked.
The accused didn't attend the hearing today because he has been release pending trial. He is expected to return to The Hague by 18 September 2008, on the eve of the status conference scheduled for 24 September 2008. After the prosecution opening statement on 1 October 2008, the accused Perisic 'might' address the Trial Chamber with a statement without making the solemn declaration. Perisic's defense counsel Novak Lukic indicated he planned to deliver his opening statement before the start of the defense case.
The prosecution has yet to submit the final list of witnesses it intends to call during its case. It has not specified the time it will need to call its evidence. As the lead counsel in the prosecution team Mark Harmon put it, 'the prosecution is currently making an effort to cut its case down from 480 to 320 hours of examination-in chief'. Provided that the Trial Chamber grants the defense motion to sit only four days per week, the best case scenario is for the prosecution case to be completed in 18 weeks.
Momcilo Perisic faces trial because in his capacity as the Chief of the VJ General Staff he allegedly provided personnel, material, financial and logistic support to Serb troops in BH and Croatia from August 1993 to the end of 1995. Those forces were involved in the shelling of Sarajevo and Zagreb and in the capture of Srebrenica.