Home
MOMCILO PERISIC PLEADS NOT GUILTY
At his initial appearance before the Tribunal, former Chief of General Staff of the VJ pleaded not guilty on all 13 counts of the indictment charging him with the shelling of Sarajevo and Zagreb and the crimes committed in Srebrenica in July 1995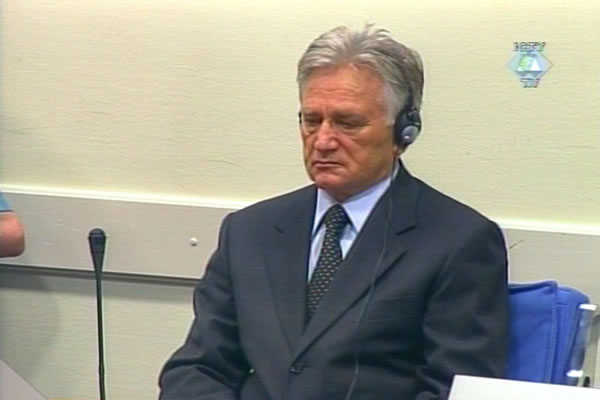 Momčilo Perišić in the courtroom
Two days after his voluntary surrender to the ICTY, General Momcilo Perisic pleaded not guilty today before Judge Patrick Robinson on all 13 counts of the indictment charging him with the shelling of Sarajevo and Zagreb and the crimes committed in Srebrenica in July 1995.
The indictment alleges that between August 1993 and the end of the war in BH in 1995, Perisic, as the VJ Chief of General Staff, provided personnel and logistic support to the Serbian Army of Krajina (SVK) and the Republika Srpska Army (VRS), thus substantially contributing to the crimes committed by the commanders and troops in those two armies. Perisic is charged both on the basis of his individual criminal responsibility – for aiding and abetting their planning, preparation and execution – and command responsibility – because he knew that the VRS and SVK commanders were committing those crimes, but failed to prevent or punish them.
Perisic responded with "Not guilty, Your Honor," to each of the 13 counts of the indictment, charging him with murder, cruel treatment, attacks on civilians, persecution on political, religious and racial grounds and extermination – qualified as crimes against humanity and violations of laws and customs of war.
At his initial appearance before the Tribunal, Momcilo Perisic was represented by "duty defense counsel" Karim Kahn. He indicated that the accused intends to appoint Obrenovac lawyer Vladan Batic as his defense counsel. Batic is former justice minister in the Serbian government.