Home
PROSECUTION WANTS 'KEY DOCUMENTS' IN PERISIC CASE
Prosecution asks the Trial Chamber to issue an order to the Serbian government compelling it to provide 'key documents' in the case of Momcilo Perisic, former chief of the VJ General Staff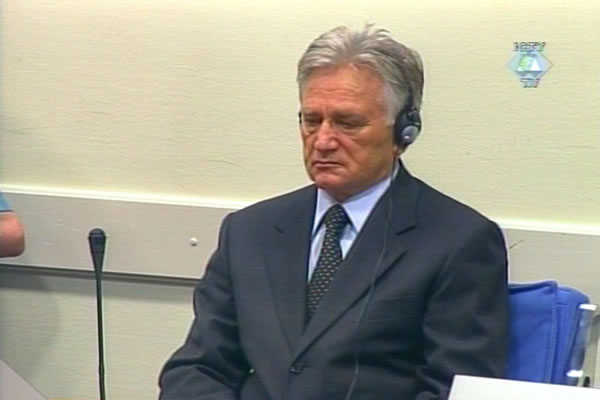 Momčilo Perišić in the courtroom
As the prosecution, despite repeated requests, has yet to receive satisfactory response from Belgrade, it has now asked the Trial Chamber to issue an order to Serbia, compelling it to deliver immediately documents relevant for the Momcilo Perisic case.
Former Chief of the General Staff will stand trial because the VJ provided assistance and support in personnel, funds and logistics to the Republika Srpska Army (VRS) and the Serbian Army of Krajina (SVK) from 1992 to 1995. As alleged in the indictment, the VJ thus contributed to the long-term siege and shelling of Sarajevo, to the fall of Srebrenica in July 1995 and to the subsequent massacres. The trial of Momcilo Perisic is expected to open in the months ahead.
In the motion to the Trial Chamber, prosecutor Mark Harmon specified three groups of documents he had unsuccessfully tried to obtain by sending regular requests for assistance.
The first document on the wanted list is a joint strategic and operational plan drafted by the VJ General Staff and the Main Staffs of the RSK and SVK. The plan sets out coordinated activity of the three armies in case of a massive attack by the Croatian Army and the BH Army against the Republic of Serbian Krajina and Republika Srpska. This document, the prosecution contends, is directly relevant for proving the close relations of the VJ, the VRS and the SVK.
The second group of documents consists of thirteen orders related to the transfer of a large number of VJ officers to the 30th and the 40th Personnel Center; they were in effect transferred from the VJ to the VRS and the SVK. Twelve of these documents were signed by the Chief of the General Staff Personnel Department and one by Perisic himself. According to the prosecutor, the documents are relevant as they indicate Perisic had effective control over the VJ officers transferred to the VRS and the SVK.
The third group of document consists of a series of shorthand minutes from the meetings of the VJ General Staff collegium, from 1 January 1992 to 31 December 1995. The prosecution first asked for the documents back in 2004 but was told they had been destroyed. An investigation conducted by the 0TP proved this was not true; they were able to locate the documents, both on paper and in electronic form. The Serbian authorities has so far delivered only some of the minutes from 1992 and 1993 as well as some minutes made after 13 September 1995. The documents of utmost significance for the indictment – made in 1994 and in the first half of 1995 – are still unavailable to the prosecution.
Noting that the materials are of key importance for the Perisic case, the prosecution called on the Trial Chamber to issue an order to the Serbian government, compelling it to immediately deliver the documents.