Home
DEL PONTE AGAINST HARADINAJ'S RELEASE
The prosecution is opposed to the request by the former Kosovo Premier Ramush Haradinaj to be released pending trial. Instead, the prosecution proposes expediting trial preparations.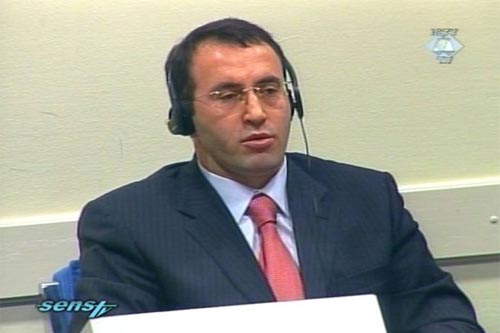 Ramush Haradinaj in the courtroom
Chief Prosecutor Carla Del Ponte said during her visit to the Organization for Security and Cooperation in Europe (OSCE) headquarters in Vienna yesterday that she was opposed to the provisional release of the former Kosovo Premier Ramush Haradinaj.
She proposes that Haradinaj remain in custody, but that the pre-trial proceedings be expedited in order to ensure that the trial can start as soon as possible. "Since the accused has announced that he wants to return to public service as soon as the issue of the indictment is resolved, his defense might join in the request by the prosecutor to expedite trial preparations," the Prosecution said in a written submission to the Tribunal judges.
In case the judges grant Haradinaj's request for provisional release, the prosecutors want the execution of the decision to be put on hold because they intend to file an appeal.
The prosecution believes that despite the voluntary surrender of the accused in March 2005 and the assurances provided by the UN Mission in Kosovo (UNMIK), there is no convincing evidence that UNMIK has "practical" capabilities to arrest Haradinaj and send him back to The Hague. The prosecution suspects that he might decide not to go back to detention considering the gravity of the charges and a prison term he might be given if found guilty. As former commanders in the Kosovo Liberation Army (KLA) Ramush Haradinaj, Idriz Balaj and Lahi Brahimaj are charged with the persecution, imprisonment and murder of civilians in Kosovo in 1998.
When former KLA commander Fatmir Limaj asked for provisional release earlier, an UNMIK official told the Tribunal that in view of the geographical position of Kosovo, the limited assets available to UNMIK to patrol the territory, and the support the accused would have, "it would be relatively easy for him to leave Kosovo." The prosecution believes that the concerns expressed in this statement should also be taken into account in the case of Haradinaj, because "the geographical characteristics of Kosovo have not changed" and Haradinaj now enjoys "even greater support" in Kosovo.
The prosecution also believes that Haradinaj's release might put witnesses and victims in danger. As part of its study of the justice system in Kosovo in 2003, the OSCE registered "incidents indicating a continuous, even growing, trend" of witness intimidation, the prosecutors said. The incidents included attempts and threats to kill. In the "Limaj and others" case, the Tribunal determined that there have been attempts to tamper with prosecution witnesses, the prosecution said, citing the case of Beqa Beqaj who has been sentenced to four months' imprisonment for it.