Home
MOMCILO KRAJISNIK'S FIRST EXPERIMENT
Until the Chamber renders its decision on the request of the accused to represent himself, Krajisnik is allowed to ask additional questions after the cross-examination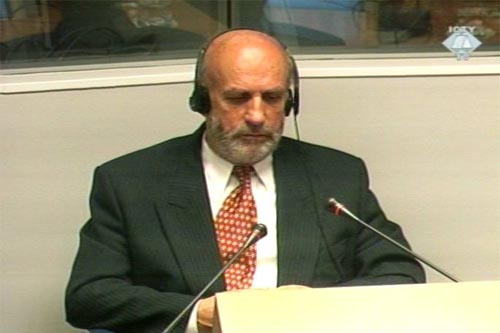 Bilal Hasanovic, witness in the Krajisnik trial
The accused Momcilo Krajisnik was allowed for the first time, on an "experimental basis", to put questions to a prosecution witness. This is a temporary permission, until the judges decide whether to allow him to represent himself until the end of the trial.
Bilal Hasanovic, former president of the Vogosce municipal assembly, was asked by Krajisnik about the witness's search for the seven Serbs from Vogosce who had been imprisoned in Sarajevo in the spring of 1992. Since Krajisnik focused on the question why Alija Izetbegovic had not given any assistance in that search, the judges reminded him that the witness, who had not personally spoken to Izetbegovic, could not be asked to present his speculations in court.
Krajisnik's defense counsel, who questioned the witness first, reminded the court that those nine prisoners had disappeared, and Hasanovic confirmed that he had no information to contradict that claim.
In his examination-in-chief, admitted in the form of a deposition, Hasanovic testified that 217 Bosniaks had been captured in Vogosce in 1992 and are considered missing. More than a hundred of them were exhumed later, some of them are still missing.
The witness states that the problems in Vogosce were the result of the behavior on the part of SDS. The Serbian party sought to ethnically divide the municipality, starting with the police forces. After the conflicts in Sarajevo in April 1992, many Bosniak civilians in Vogosce were detained.
Defense counsel Nicholas Stewart tried to, as he said, show the context of the events in Vogosce and noted that the Bosniaks had set up road blocks, established special units, built mosques; Serbs felt under threat.
Yet, most of the debate centered on Hasanovic's statement that the instructions to the SDS representatives to seek ethnic division in Vogosce came "from the top." The witness assumes that the "top" meant the SDS leadership or the Bosnian Serbs Assembly (Krajisnik was an SDS leader and the speaker of the Assembly). His lawyer noted several times that the witness could not corroborate that claim with any clear evidence.