Home
KRAJISNIK DOES NOT WANT LAWYERS
Having concluded that he would "not be able to establish the truth" with the help of his laywers, Momcilo Krajisnik seeks to be allowed to defend himself and to examine witnesses. The Trial Chamber will, as announced, render their decision tomorrow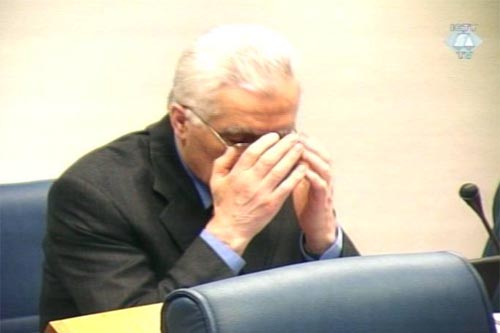 Momcilo Krajisnik in the courtroom
Accused Momcilo Krajisnik seeks to be allowed to defend himself because he has decided his lawyers cannot assist him to establish the truth, as he told the judges today.
Instead of witness testimony, the session today was devoted to this sudden and, as Judge Alphons Orie said, "complex" issue that was raised after Krajisnik sent a letter to the Registry yesterday, seeking leave to defend himself.
The issue will be decided by the Trial Chamber hearing his case. "The Chamber must consider whether there are restrictions to the right of the accused to defend himself," Judge Orie said. He noted that the Chamber must not "take action lightly" because this decision will have significant consequences for everyone involved. The Chamber will render its decision tomorrow, probably late during the day.
Krajisnik's British lawyer Nicholas Stewart said today that he had his Australian co-counsel Chrissa Loukas as of that moment no longer considered themselves to be Krajisnik's legal counsel, but they would await the decision of the Chamber to see whether they would be "reappointed".
Krajisnik proposed that he be allowed to take over the cross-examination of the prosecution witness scheduled to testify today: he would need a day of adjournment and all the materials pertaining to the witness. The judges decided the witness would be heard on Friday, but in the meantime they will decide who will be cross-examining the witness: the defense counsel or the accused himself.
As for prosecutor Mark Harmon, he said very briefly that his team was "in a way taken aback" by this development. He limited himself to proposing that "this legal issue be dealt with as soon as possible."
The prosecution is scheduled to rest its case on 22 July. The trial began in February 2004 after four years of pre-trial proceedings, which saw the replacement of the original defense team. Krajisnik and his current defense team have informed the Chamber several times during the trial that they do not see eye to eye about the defense strategy and other issues.