Home
KRAJISNIK AS "EXPERIMENTAL" DEFENCE COUNSEL
Judges postponed making their decision on the request made by Krajisnik to defend himself, in order to "study more deeply all the aspects and consequences" of such a step. Until their decision is made, the trial will continue with the present defense team; Krajisnik will be allowed to ask witnesses questions "on an experimental basis"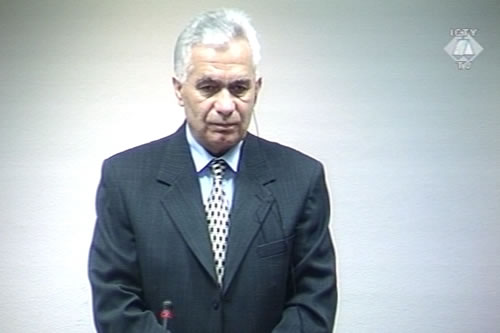 Momcilo Krajisnik in the courtroom
The judges want to "study more deeply all the aspects and consequences" of the request Momcilo Krajisnik has made to defend himself. They announced that a status conference would be held next week, to discuss "legal and practical" aspects of the request. In the meantime, the trial is to continue without any major breaks.
Krajisnik informed the Registry and the judges yesterday that he considered his present defense team to be "unable to help to determine truth in the trial" and that he wanted to defend himself against the charges of genocide and persecution of non-Serbs in BH. However, the Trial Chamber concluded – as the presiding judge said today – that Krajisnik was not properly informed of the way in which proceedings where the accused is defending himself are conducted. They therefore concluded that his request was not "sufficiently informed."
All the parties in the proceedings agree that this "complex situation", as Judge Alphons Orie put it, should be discussed at a status conference. Krajisnik notes that his defense lawyers, Briton Nicholas Stewart and Australian Chrissa Loucas do not put to the witnesses questions he considers to be important. When asked by the judge whether in fact he only asked to be more actively involved in his defense, Krajisnik replied, "My only choice is to conduct my own defense."
"Regardless of the decision reached by the judges, the presentation of evidence will continue uninterrupted", Judge Orie said after the prosecutor urged that the problem be resolved as soon as possible.
As the parties await the final decision of the Chamber, lawyers Stewart and Loucas have been ordered to continue to examine prosecution witnesses. For the time being, Krajisnik has been allowed to put questions to witnesses after his lawyers have done so, on an "experimental basis".