Home
KRAJISNIK WAS "NEITHER FAIR NOR EFFICIENT", KARADZIC WAS "IMPERTINENT AND CHILDISH"
Stjepan Kljuic cross-examined at the trial of Momcilo Krajisnik, former speaker of the BH Assembly, charged with genocide and other war crimes in BH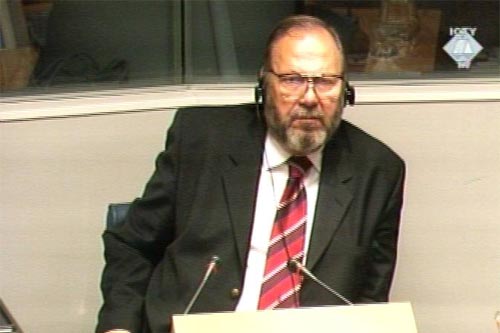 Stjepan Kljuic testifying in the Krajisnik trial
Former member of the BH Presidency and the president of the HDZ BiH Stjepan Kljuic says his relations with Momcilo Krajisnik were "correct" at the time when Krajisnik was the speaker of the BH Assembly, but rejects the defense's suggestion that Krajisnik ran the Assembly in a "fair and efficient manner".
On the other hand, Kljuic described Radovan Karadzic's conduct as "impertinent and childish", noting that the then SDS leader was "a priori against any Bosnia and Herzegovina" and that he threatened him, saying that "Bosnia would be no more" and that they would "kill everyone." Kljuic responded to him, as he claims, by saying, "There will be Bosnia, even if it won't be bigger than Monaco."
Kljuic returned to the courtroom after his examination-in-chief last September in order to be cross-examined by Krajisnik's defense. He says the disagreements with Krajisnik and problems in the Assembly began "when discussions about the future of BH started." He explained that the SDS was in favor of staying in Yugoslavia while Bosniaks and Croats did not want that "after what Milosevic's regime did in Croatia and in parts of BH by that time."
Kljuic said that the refusal of the SDS leadership to recognize the AVNOJ borders of Croatia "determined the future and the developments to come" in BH. Kljuic had a written note from a meeting where Karadzic, Krajisnik and Koljevic said "that they would never agree to that" although that move, accorind to Kljic, would have removed the cause of war.
Krajisnik's defense counsel Nicholas Stewart, however, is trying to question the evidentiary value of Kljuic's note. "These are not notes, but a draft version of a paragraph for your book," he claimed. Kljuic, however, claims that the notes are accurate, that all three SDS leaders refused the proposal and that he would "remember that for the rest of [his] life."
Kljuic's cross-examination will continue tomorrow.