Home
HARADINAJ, BALAJ AND BRAHIMAJ PLEAD NOT GUILTY
Ramush Haradinaj, until recently the Prime Minister of Kosovo, and two of his erstwhile subordinates pleaded not guilty to the charges of participation in a "joint criminal enterprise". The objective of the enterprise, as alleged by the prosecutor, was to remove the Serbian civilians from the part of Kosovo in which they were active, and to prevent the real or perceived collaboration of Albanians and Roma with the Serbian authorities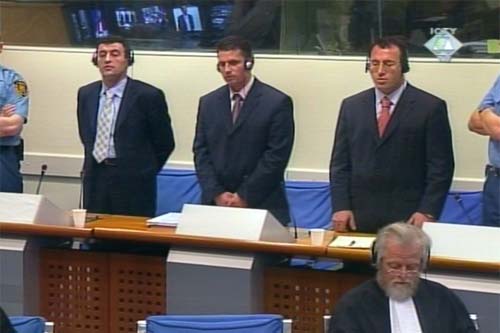 Brahimaj, Balaj and Haradinaj (from left to right) in the courtroom
Ramush Haradinaj, Idriz Balaj and Lahi Brahimaj, former KLA commanders, pleaded not guilty today on all the counts in the indictment for crimes committed in 1998 against Kosovo Serbs, Roma and the Albanians accused of collaborating with the Serbian authorities. They have been charged with crimes against humanity and violations of laws and customs of war.
At their initial appearance before the ICTY, when asked how they plead by Judge Agius who read out count after count of the indictment, the three accused stated 107 times that they pleaded not guilty: Haradinaj 37 times, and Balaj and Brahimaj 35 times each. Idriz Balaj, who has been charged with particularly brutal torture and maiming of the detained Serbian and Albanian civilians and rape of a Roma woman, responded to each count with "Absolutely not guilty."
The three former KLA commanders have been charged with persecutions on political, racial and religious grounds, abductions, detention, torture, rape, cruel treatment and murder of several dozen Serbian, Roma and Albanian civilians. Since these acts have been qualified as crimes against humanity, the prosecution will have to prove that they were committed as part of "a widespread and systematic attack" on the civilian population and that they were committed with "discriminatory intent."
Haradinaj and Brahimaj surrendered voluntarily to the ICTY last week, while Balaj was transferred to The Hague from a prison in Dubrava (Kosovo), where he was serving a 15 year sentence for crimes similar to those he pleaded "absolutely not guilty" to today. Haradinaj's and Brahimaj's defense counsel indicated today that they would be filing motions soon for their provisional release pending trial, considering that the accused surrendered voluntarily as soon as the indictments were served on them.
Although the indictment gives nicknames for all three accused, all three claimed not to have any nicknames when they gave their personal details to the judge today,. As their lawyers suggested, they asked to be allowed to provide their addresses prior to their departure to The Hague in private session to which the public has no access.
At the time covered by the indictment, Ramush Haradinaj was a KLA commander in the Dukadjin Operative Zone, which included the municipalities of Pec, Decani and Djakovica and parts of the municipalities of Istok and Klina. According to the indictment, Idriz Balaj was the commander of a special unit of the KLA known as the "Black Eagles" and was subordinate to Haradinaj. The third accused, Lahi Brahimaj, a close relative of Ramush Haradinaj, is described in the indictment as the deputy commander of the Dukadjin Operative Staff and the commander of the make-shift KLA camp in Jablanica.
The first accused Ramush Haradinaj is alleged to have had full control of all the KLA forces in the Dukadjin Operative Zone in the period covered by the indictment – between 1 March and 30 September 1999 – and to have "set up a system" in which the crimes listed in the indictment were committed. The prosecutor claims that in some cases Haradinaj "personally ordered, controlled and participated in the beating of detained civilians", while on other occasions "with his presence and tacit or overt approval for such criminal conduct, he encouraged … criminality by members of his own forces." He is also charged with having personally participated in the abduction of persons who were later found dead. The indictment also alleges that "on at least one occasion, he gave tacit approval for the execution of a detained person."