Home
WITNESSES MUST BE UNTOUCHABLE
Prosecution and defense close at the trial of Beqa Beqaj, charged with contempt of court for his attempts to interfere with the witnesses in the proceedings against the three former KLA members. Prosecution proposes a sentence of six months in prison, defense calls for acquittal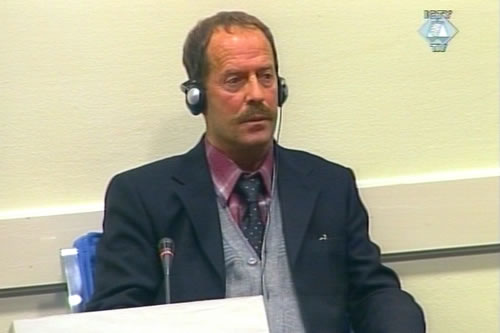 Beqa Beqaj in the courtroom
"Witnesses must not be intimidated, they must not be influenced, they must be untouchable" – prosecutor David Akerson stressed today in his closing argument at the trial of Beqa Beqaj. Reminding the Chamber that its duty is to "protect the witnesses and the integrity of due process and trials" before the ICTY, Akerson urged the judges to convict the accused of inciting a witness to commit perjury.
Summing up the evidence presented in the three days of trial, the prosecutor quoted segments of the intercepted telephone conversations last October between the accused Beqaj and one of the protected witnesses at the trial of former KLA members charged with the crimes in the Lapusnik camp. Beqaj's attempts to persuade witness B-1 not to testify or to say that he "has no evidence against Isak Musliu and Fatmir Limaj" are tantamount to "incitement to commit perjury", according to the prosecutor.
Beqa Beqaj is a relative of Isak Musliu and in his contacts with the witness he always said he was calling on his behalf. Witness B-1 is a former detainee of the Lapusnik camp and survived two attempts on his life after it became known that he would be testifying at the trial of the persons accused of the crimes in that camp. He was therefore entered into a witness protection program and now lives in another country. As B-1 testified, Isak Musliu, former KLA commander in Lapusnik, was behind one murder attempt.
According to one of the intercepts quoted by the prosecutor, Beqaj told Musliu that B-1 decided to go on with his testimony and would not withdraw his statement, and Isak Musliu said from the UN Detention Unit in The Hague, "Not the moon, not the sky, nothing would save him, he should know that. Tell him that, openly."
Beqaj's defense counsel Van der Spoel noted in his closing argument that the prosecutor failed to prove his "nebulous charges." According to the defense counsel, Beqaj "did not threaten, intimidate or try to bribe the witnesses" and "did not deliberately and willfully incite anyone to contempt of court or obstruction of justice" and should therefore be acquitted.
The prosecution sought 6 months in prison for Beqa Beqaj. Beqaj has practically served this sentence since he was in prison from his arrest on 19 October 2004 until 8 March, when he was provisionally released pending trial. The judgment will be delivered on Thursday, 5 May at 5 p.m.