Home
A SPONTANEOUS CONFESSION
What has Beqa Beqaj told the OTP investigator about his contacts with the key witness? Beqaj has been charged with contempt of court for allegedly attempting to interfere with a witness in the Limaj et al. case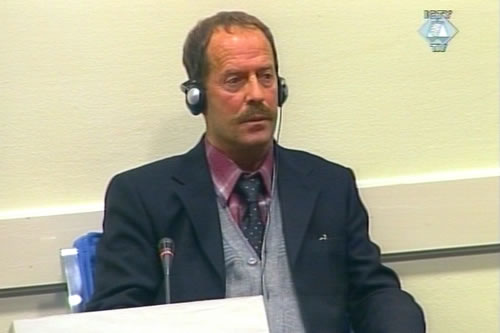 Beqa Beqaj in the courtroom
Beqa Beqaj admitted at his first meeting with an OTP investigator that he had spoken to a witness, British detective Jonathan Peter Sutch said at the trial of the Kosovo Albanian charged with attempts to interfere with witnesses in the Limaj et al. case.
Sutch worked for four years as an OTP investigator in Kosovo. In October 2004 he visited Beqaj in Stimlje because he was notified by the Tribunal that Beqaj had telephoned a protected prosecution witness who was to testify at the trial of former KLA members Fatmir Limaj, Isak Musliu and Haradin Bala, accused of the crimes in the Lapusnik camp.
This witness became part of the ICTY witness protection program and has been relocated to another country, where he has been given a new identity. On Wednesday, he testified at Beqaj's trial how he had been attacked twice and received threats that he would be killed unless he withdrew his testimony in the Limaj et al. case. Most of his testimony was presented in private session, in order to protect his identity.
After his initial spontaneous admission that he had spoken to one witness, Beqaj denied knowing any of the accused or witnesses in the Limaj case during an official interview in the OTP office in Pristina, the investigator said today. He later admitted more, but to a limited extent, Sutch added. During that interview, he gradually let Beqaj know that the OTP had tapes of his telephone calls to witness B1. The tapes prove, as the prosecutor alleges, that Beqaj tried to talk witness B1 into coming back to Kosovo and stating he had not known anything about Fatmir Limaj and Isak Musliu.
The two days for the presentation of prosecution evidence at the Beqaj trial are now over. The prosecution and the defense will present their closing arguments on Monday, and the judges announced that they would shortly deliver their decision on whether Beqaj was guilty of contempt of court. If found guilty, he could be fined or sentenced to prison.