Home
NEW INDICTMENTS FOR CONTEMPT OF COURT
Journalists and publishers of the Hrvatsko slovo and Hrvatski list and former head of SIS charged with contempt of court for publishing the identity and testimony of protected witnesses in Blaskic trial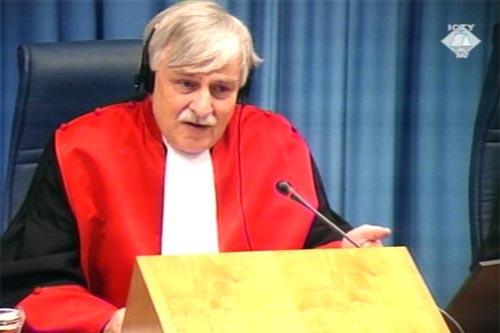 Alphons Orie, judge in the Tribunal
Three Croatian journalists and publishers and a former civil servant have been charged with contempt of court for publishing, as the prosecution alleges, the identity and testimony of protected witnesses, it was announced today at the Tribunal.
Ivica Marijacic, journalist and editor in the Hrvatski list weekly and Markica Rebic, former head of the SIS intelligence service have been charged with revealing the identity of a protected witness who testified on 19 December 1997 in closed session in the Blaskic case. The identity of the witness and his testimony, which was under seal, were published in the 18 November 2004 issue of the weekly. Rebic, as alleged in the indictment, confirmed in an interview he gave to the weekly that he had given documents under ICTY seal to the paper.
In a separate indictment, the publisher of the Hrvatsko slovo weekly, Stjepan Seselj, and its editor, Domagoj Margetic are charged that on 26 November 2004 they started publishing a series of transcripts of the testimony of a protected witness who testified in the Blaskic case on 16 March 1998.
At the request of the Chief prosecutor, the Tribunal ordered on 1 December 2004 to the Hrvatsko slovo to cease publication of the transcripts. Seselj then stated he would comply with the order, while Margetic notified the ICTY President in a letter that he did not recognize the Tribunal and its orders and published other transcripts of the testimony of the same witness in the Novo hrvatsko slovo weekly.
The two indictments, signed by Carla del Ponte in late January 2005, were confirmed yesterday by Judge Alphons Orie. He ordered the Office of the Prosecutor to inform the Registry about the current whereabouts of the accused, so that the Registry could serve the indictments. It will be up to the trial chambers hearing the cases to issue binding orders to the accused.