Home
GENERAL LUKIC POSTPONES ENTERING PLEA UNTIL 4 MAY
Two days after his transfer from Belgrade to the UN Detention Unit, Serbian police general Sreten Lukic postponed entering his plea at his initial appearance by 30 days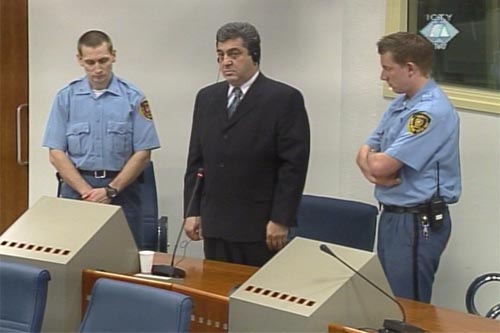 Sreten Lukic in the courtroom
Like most of the accused who have appeared before the Tribunal in the past two months, General Sreten Lukic used his right to postpone entering his plea on the counts of the indictment at his initial appearance before Judge Bonomy today. He will have another opportunity in 30 days to enter his plea on the five counts of the indictment, charging him with crimes against humanity and violations against laws and customs of war.
Lukic has been charged with those crimes together with three other VJ and Serbian MUP generals: Vladimir Lazarevic, who surrendered two months ago, as well as Nebojsa Pavkovic and Vlastimir Djordjevic who are still at large. The Office of the Prosecutor has already filed an application to join the Lukic and Lazarevic case with the case against Milan Milutinovic, Nikola Sainovic and Dragoljub Ojdanic, who are all awaiting trial in the UN Detention Unit for the same crimes: deportation and forcible transfer of about 800,000 Kosovo Albanians in the first half of 1999, mass murder of civilians and persecution of the Albanian population in Kosovo on political, racial and religious grounds. The prosecution will undoubtedly be filing the same application for Pavkovic and Djordjevic when they come to The Hague, in order to try all the persons accused for the same crimes together.
General Lukic did not say anything about the circumstances of his transfer to The Hague although Judge Bonomy gave him a chance to say something about it at his initial appearance today. Different versions of the event have been circulating in Belgrade. When the judge gave him the floor, Lukic merely said that "the procedure regarding his health" was being conducted under the supervision of a doctor, and that he was happy that on Monday he would be seen by a cardiologist who would "also be monitoring the situation".