Home
"WE NEVER EVEN SEIZED ANY PROPERTY, LET ALONE PLUNDER IT"
In the course of military actions in Ovnak and Vares, troops of the 2nd Battalion 7th Muslim Brigade did not loot Croat houses, former battalion members claim at the trial of their former commander Amir Kubura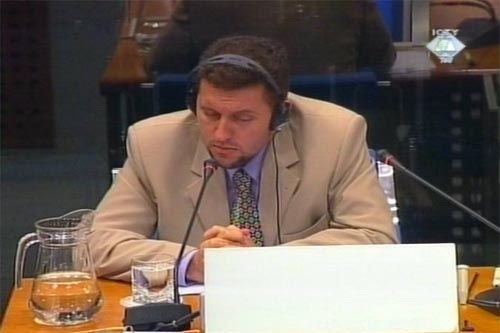 Kasim Podzic, witness in the Kubura trial
"We definitely did not take any property out of Croat houses in the Ovnak area," testified Elvedin Omic today. In June 1993, he participated in a military action north of Travnik as a soldier of the 7th Muslim Brigade. He is testifying at the trial of the former chief of staff and then commander of the 7th Muslim Brigade, Amir Kubura. Among other charges, Kubura faces allegations of plunder and destruction of property in the Ovnak area, committed by troops subordinate to him.
Omic says that the soldiers from his squad entered some of the houses to check whether there were any HVO soldiers in there, but they did not find anyone, civilians or soldiers. "Sometimes the soldiers would take some water, juice or bread, but they did not take any property," the witness says.
"Before every operation, someone from the Brigade command would instruct us not to kill the innocent people, women, children, prisoners and not to destroy the property," the witness went on to say. He is now a major in the Federation Army, currently serving as a military observer with the UN mission in Congo.
He notes that the 7th Muslim Brigade spend less than a day at Ovnak and that it was dispatched to participate in another action in Kakanj the very next day. The defense stresses that the plunder and destruction of property occurred after the military action was over. "The villages we passed through should have been taken over by the civil defense," Omic says.
In November 1993, the 2nd Battalion, 7th Muslim Brigade, took part in the operation to take Vares. The prosecutor has charged the brigade commander Kubura with the plundering that took place during that operation. Defense witness Kasim Podzic, who commanded the 2nd Battalion of that brigade, says that his soldiers "took part in the liberation of Vares, but did not seize any property, let alone plunder it."
When Podzic entered Vares with his battalion on 4 November, "the HVO and part of the population had already left the town which was in a state of chaos." "The chaos was probably caused by the withdrawal of the HVO, perhaps even on purpose," the witness noted. He claims that the 7th Muslim Brigade troops "left Vares in an organized fashion" the same day and that "at that moment, none of them carried away anything apart from their military kits."
When the prosecutor insisted that the witness say whether any of his soldiers had in fact been disciplined for plunder in Vares, the witness replied he did not remember that. "I did not say that there had been no cases of prosecution, before and after this incident, in this and in other units", he added.