Home
KUBURA ISSUED ORDERS BUT DID NOT EXERCISE COMMAND
"By his function", the chief of staff "stood in for the commander" of the 7th Muslim Brigade in the spring and summer of 1993, but "in formal and legal terms", he became the commander only in August 1993, says the first defense witness called by Amir Kubura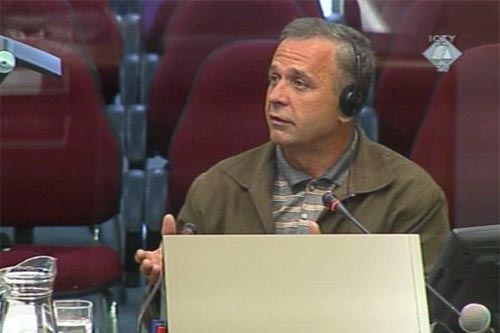 Semir Terzic, defense witness for Kubura
Members of the BH Army 7th Muslim Brigade were not in the area of the village of Miletici or of the village of Maline when the crimes against Croat civilians were committed there, says defense witness Semir Terzic, former officer for operations and training in the staff of that brigade.
Terzic is the first defense witness called by Amir Kubura. Kubura was the acting commander of the 7th Muslim Brigade in the first half of 1993. He has been charged, on the basis of command responsibility, with crimes in those villages and several other locations in Central Bosnia. According to the testimony of prosecution witnesses, the murders were committed by the mujahedin, but the prosecutor was trying to prove that the foreigners had links with the 3rd Corps of the BH Army and in particular with the 7th Muslim Brigade.
Since Terzic testified that Kubura had not been appointed the commander of the 7th Muslim Brigade before August or even September 1993 – several months after the crimes alleged in the indictment had been committed – in his cross-examination, the prosecutor tried to seek clarification as to who actually commanded the brigade in the period that preceded his appointment. The witness had confirmed previously that Kubura's predecessor, Asim Koricic "was not in the brigade after March or April and that he was probably abroad", and that no instructions or orders had been coming from him as to how to run the brigade in that period.
"By his function, the chief of staff of the Brigade, Amir Kubura, commanded the brigade, but he only stood in for the commander, he assigned tasks together with the assistants," the witness says, adding that throughout that time Kubura was addressed as "Chief of Staff". He stresses that Kubura "formally and legally" became the commander only in August 1993.