Home
DEFENSE CLOSES ITS CASE IN KUBURA TRIAL
Defense of Amir Kubura completes presentation of evidence – The trial of the former B-H Army commanders in Central Bosnia, Enver Hadzihasanovic and Amir Kubura, to be completed with closing arguments in July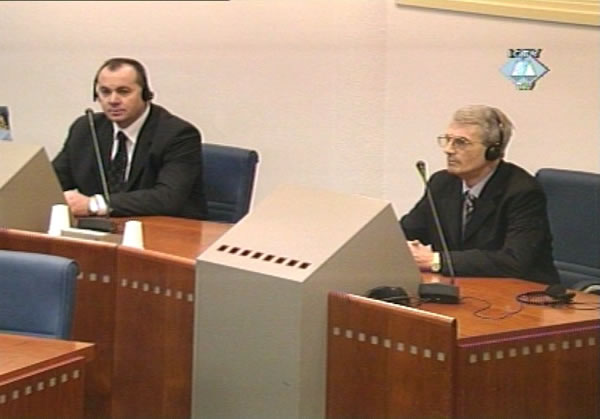 Enver Hadzihasanovic i Amir Kubura in the courtroom
The presentation of evidence by the defense for Enver Hadzihasanovic and Amir Kubura officially ended today. The trial will be completed in July after the prosecution and the defense present their closing arguments.
During the trial, which opened in December 2003 and took 216 workdays, the prosecutors called 98 witnesses, the defense for Hadzihasanovic called 62 witnesses and the defense for Kubura 11. The parties additionally submitted a certain number of written statements by other witnesses.
The prosecution tried to prove that the former Commander of the B-H Army Third Corps, Enver Hadzihasanovic, and the former Commander of the Seventh Muslim Brigade, Amir Kubura, were responsible for failure to prevent or punish cases of murder, ill-treatment and detention of non-Bosniak civilians in Central Bosnia in 1993 as well as cases of property destruction. The most serious charges relate to killings committed by the Mujaheddin in the villages of Miletici and Maline and in their camp near Travnik.
Counsel for the accused tried to prove that the B-H Army did not control the Mujaheddin and that the two accused did not have information about crimes committed by regular B-H Army forces in their area of responsibility (for example in Dusina, Bugojno, the Music School in Zenica or the barracks in Travnik).
Last month the prosecutor requested leave from the Trial Chamber to re-open its case in order to tender 24 documents which he said he did not have at the time the prosecution was presenting his case. The documents concern the relationship between Mujaheddin and the B-H Army. The defense, however, noted that nine of the proposed documents have been available to the prosecutor since 2002 when they were submitted by the B-H Government. The prosecutor agreed with this. "It is difficult to determine why that material has not been properly analyzed," Prosecutor Daryl Mundis said today. Mundis assumes that problems with opening a compact disc containing these documents possibly resulted in "the potential importance of that CD remaining unnoticed".
This week the Trial Chamber will decide whether or not to grant the prosecutor leave to admit the additional documents.