Home
MUJAHEDIN WERE "JUST HANGING ABOUT"
Foreign fighters were "hanging about" the area north of Travnik, but "they were not in any of the [BH Army] brigades and were not bound by anything," testified assistant for morale in the 1st Battalion, 7th Muslim Brigade, at the trial of his former commander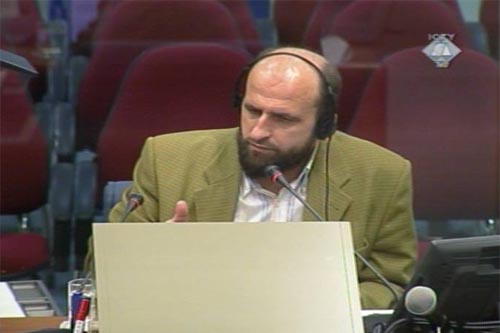 Dzemail Ibramovic, witness in the Kubura trial
The Travnik battalion of the 7th Muslim Brigade did not have any links with the foreign fighters stationed in the village of Mehurici, says Dzemail Ibranovic, former assistant for morale and religious affairs in the 1st Battalion, 7th Muslim Brigade. He is testifying as a defense witness of Amir Kubura, former chief of staff and later commander of the 7th Muslim Brigade, who has been charged with the crimes committed by the mujahedin in Central Bosnia.
"The arrival of foreign fighters was interesting for our people, but I soon realized that our views were different", Ibranovic said. He is a religious clerk in the Travnik Islamic Community. "They caused us great problems because of their views of the Islam. I could not accept that and our contacts were very low-level." Although the mujahedin "hung about" the area, as the witness said, "they were not in any of the [BH Army] Brigades and they were not bound by anything."
Reminding the court that the 7th Muslim Brigade was "bound by the rules of the Islam", Ibranovic notes that it was his task to acquaint the fighters with the basic rules and to teach them how to maintain physical and spiritual cleanliness. He would often hold lectures and visit the soldiers "who put great stock in that". The soldiers were aware of the difficult situation, the witness says, going on to explain that the choice facing them was "either go and live in tents like the Palestinians or defend their homes."
As to the allegations made by the prosecutor that the members of the 7th Brigade were given booklets entitled "Instructions for Islamic Fighters" that contained some controversial rules about the treatment of civilians, Ibranovic says he saw the booklet during the war, "as he did many other books", and adds that this was "optional reading" and that he himself has many objections to make to that booklet. The witness said that in the BH Army it was always stressed that the children and the infirm must not be touched and that places of worship must not be destroyed.