Home
NEW DOCUMENTS ON MUJAHEDIN
At the trial of former BH Army 3rd Corps commanders, the prosecution seeks to be allowed to reopen its case "in the interest of justice" and to adduce new evidence on the status of foreigners in the corps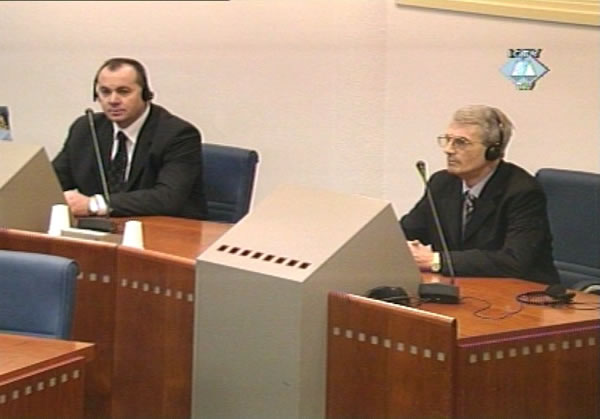 Enver Hadzihasanovic i Amir Kubura in the courtroom
At the trial of Enver Hadzihasanovic and Amir Kubura, the prosecution has asked to be allowed to reopen its case in order to adduce new evidence on the links between the BH Army 3rd Corps and the mujahedin.
The written application states that the prosecution – despite all the efforts, searches of military archives and requests submitted to the intelligence services in BH – has not been able to obtain those documents before and in the course of its case (December 2003 - July 2004). Only after the prosecution rested, in late 2004 and early 2005, did the prosecutors get the documents they now want to have admitted from the state intelligence service and the courts in BH.
Of a total of 24 new documents, ten "relate to the presence of foreigners in the BH Army, and particularly in the El-Mujahid unit of the 3rd Corps", the prosecutor stated, adding that those documents "clearly demonstrate that foreigners were in units of the BH Army and 3rd Corps as early as July 1992." Several documents pertain to the status and activities of foreign individuals – Abdulathim Maktouf, Abu Haris and Abu Jafer. Some of the documents deal with the activities of the so-called "Turkish guerilla" – a group of Turkish fighters stationed in the village of Arnauti near Zenica in 1993. The prosecutor is trying to prove that for a period they were a part of the 7th Muslim Brigade.
The last group of documents deals with the crimes committed by Ramo Durmis, who was first a member of the 7th Muslim Brigade and then of the El-Mujahid unit, as the prosecutor alleges. Durmis was tried for his crimes before the district and military courts in Zenica. The judgments against him are of interest to the prosecutor because they deal with the status and activities of the El-Mujahid unit.
At the trial of Hadzihasanovic, former commander of the 3rd Corps, and Amir Kubura, former commander of the 7th Muslim Brigade, Kubura's defense is presenting its evidence.