Home
BEARA "NOT GUILTY", TRBIC POSTPONES HIS PLEA
Former chief of security in the VRS Main Staff, Ljubomir Beara, pleaded not guilty on any of the counts in the amended indictment for the genocide in Srebrenica - At his initial appearance before an ICTY judge, Milorad Trbic, former security officer in the VRS Zvornik Brigade, decided to postpone his plea by thirty days. He has been charged with the murders in Srebrenica in July 1995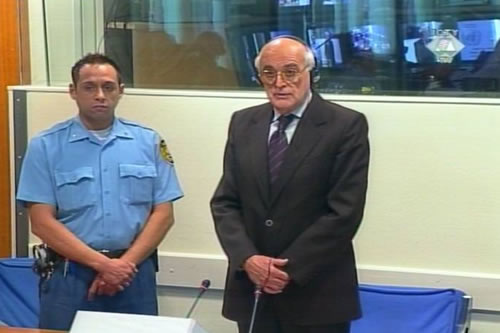 Ljubisa Beara's first appearance at the Tribunal
Early this morning, before the beginning of the regular hearings in the ongoing trials in the ICTY courtrooms, two men accused of the crimes committed by VRS troops in Srebrenica in 1995 were brought before the judges.
After his transfer to the UN Detention Unit last Thursday, reserve captain Milorad Trbic, former security officer in the VRS Zvornik brigade, exercised his right to postpone entering his plea on the counts in the indictment by 30 days. Trbic has been charged in a single count with crimes against humanity, because he personally "took part in organizing the detention and murder of thousands of Bosnian Muslim men transported to the zone of responsibility of his Brigade from 13 through 17 July 1995."
If he decides to plead not guilty within 30 days, Trbic will be tried together with Ljubimir Beara, former security chief in the VRS Main Staff. He was brought before Judge Ian Bonomy today to re-enter his plea, since his indictment has been amended. Just as he did at his initial appearance, Beara pleaded not guilty on the new counts, in which he is charged with conspiracy to commit genocide and forcible transfer of thousands of captured Bosniaks who were later executed by VRS troops in the Srebrenica area in July 1995.
Four other former VRS members are charged with the same crimes. Three of them – Vinko Pandurevic, Drago Nikolic and Ljubomir Borovcanin – are already in UN detention, while the fourth – Vujadin Popovic – will arrive on Thursday, 14 April, as announced.
Three former members of the VRS Main Staff have also been charged with the crimes committed in July 1995 in the enclaves of Srebrenica and Zepa, but not with genocide. Generals Milan Gvero and Radivoje Miletic are in detention, while General Zdravko Tolimir is still at large.
Photos