Home
GENERAL MILETIC "NOT GUILTY"
Former member of the VRS Main Staff pleads not guilty to murders, persecutions, inhumane acts and deportation of Muslim populations in Srebrenica and Zepa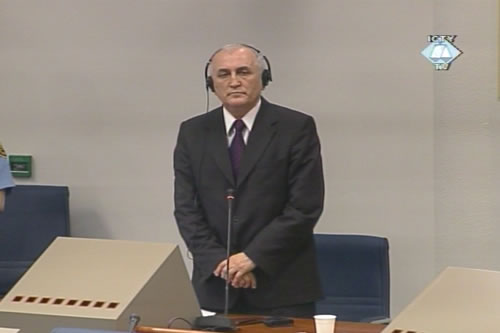 Radivoje Miletic in the courtroom
General Radivoje Miletic, former chief of operations and training and acting VRS Chief of Main Staff, pleaded not guilty today on any of the five counts in the indictment charging him with murders, persecutions, inhumane acts and deportation of the Muslim population in the safe havens of Srebrenica and Zepa in July 1995.
This was the third time Miletic appeared before a judge since his surrender to the Tribunal on 28 February 2005. At his initial appearance, on 2 March, he postponed entering his plea by 30 days and then sought additional two weeks to resolve problems with the appointment of his lawyer. Miletic appeared in the courtroom today represented by Natasa Favaux Ivanovic from the Paris Bar Association, who has been appointed his defense counsel.
Two other members of the VRS Main Staff are on the same indictment with General Miletic and are charged with the same crimes: General Milan Gvero, who has also pleaded not guilty, and General Zdravko Tolimir, who remains at large.