Home
YET ANOTHER NAME ON THE SREBRENICA INDICTMENT
There is another name on the amended indictment against Vinko Pandurevic, former commander of the VRS Zvornik Brigade, but that name remains under seal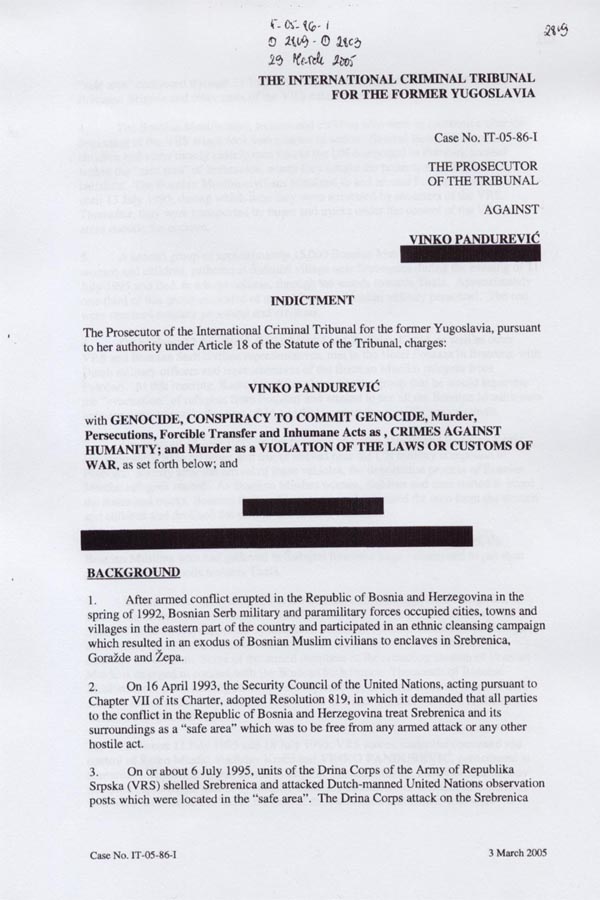 The indictment against Vinko Pandurevic
When he appeared before an ICTY judge last Thursday, General Vinko Pandurevic said that he had been handed the amended indictment on that very day; he therefore decided to postpone entering a plea on the counts by 30 days until he had time to study it and consult with his defense counsel.
The amended indictment against the former VRS Zvornik Brigade commander was confirmed on 29 March 2005. Apart from Vinko Pandurevic, it contains another name which remains under seal. Unlike Pandurevic, who has been charged with genocide, conspiracy to commit genocide, murders, persecutions, forcible transfer and inhumane acts in seven counts, his unknown co-accused is charged only with murders as a crime against humanity and violations of laws and customs of war - in only two counts. While Pandurevic, who commanded the brigade at the time of the Srebrenica crimes, has been charged on the basis of both individual and command responsibility, the second accused whose name has been redacted, has only been charged on the basis of individual responsibility for the crimes in which he personally participated.
If all the accused reach The Hague on time, there will be a total of nine persons in the dock for the third Srebrenica trial before the Tribunal. Six of them are already in the UN Detention Unit: Milan Gvero, Radivoje Miletic, Vinko Pandurevic, Ljubomir Beara, Drago Nikolic and Ljubomir Borovcanin, while three are still at large: Zdravko Tolimir, Vujadin Popovic and the anonymous co-accused from the amended indictment against Pandurevic.