Home
COMMANDER "IN THE LEGAL SENSE"
According to the evidence presented by the defense, Amir Kubura formally did not become the commander of the 7th Muslim Brigade until August 1993 – this is after the crimes he has been charged with were committed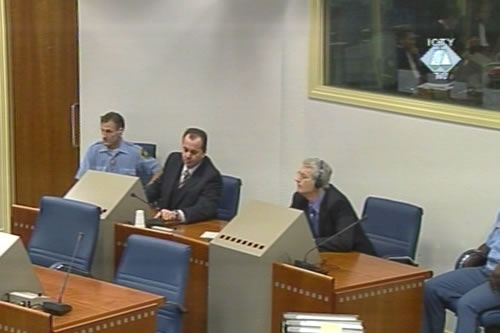 Amir Kubura in the courtroom
The defense argues that the accused Amir Kubura became the commander of the 7th Muslim brigade only after the period in which the crimes he has been charged with were committed. "In legal terms," he became the "real commander" only on 6 August 1993, said defense military expert Vahid Karavelic today.
According to the indictment, Kubura was the acting commander from 1 April until 20 July 1993, when he became the commander of the 7th Muslim Brigade. This makes him responsible, because of the authority he had, for the crimes committed by soldiers subordinate to him in the period from April to June 1993. Among other things, he is charged with the abuse of prisoners in the Zenica Music School, in Motel Sretno in Kakanj and with the killings committed in the villages of Miletici and Maline by the mujahedin who were linked with the 7th Muslim Brigade, as alleged by the prosecution.
Defense military expert, General Vahid Karavelic, stated in his testimony today that as he had prepared his expert report he had not come across any documents about the presence of the 7th Muslim Brigade in Miletici or Maline at the time of the crimes, or any documents indicating that any reports about the events in the two villages had been sought from the brigade.
Karavelic also confirmed the argument put forward by the defense counsel that the 7th Muslim Brigade "did everything to prevent the looting in Vares" after the BH Army entered the town in November 1993. The prosecutor charges Kubura – on the basis of command responsibility – for the chaos and looting, but the defense argues that the 7th Muslim Brigade in fact re-established law and order in Vares, together with the military and civilian police.
Karavelic considers Amir Kubura – who commanded the 1st Muslim Brigade in Karavelic's 1st Corps after his service in the 3rd Corps – a man "of very high moral quality, who is very much able to distinguish between good and evil."
The examination-in-chief of the defense military expert finished today after several days, and the prosecution started the cross-examination.