Home
GENERAL LAZAREVIC PLEADS NOT GUILTY
At the initial appearance of the accused before a judge, the prosecution announced its intention to file an application for a joinder of Lazarevic's case with the Milutinovic-Sainovich-Ojdanic case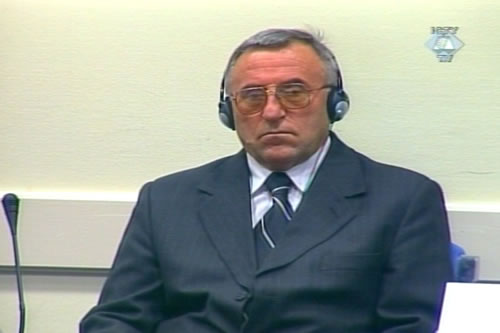 Vladimir Lazarevic in the courtroom
General Vladimir Lazarevic, former commander of the Yugoslav Army's (VJ) Pristina Corps, pleaded not guilty today on any of the five counts of the indictment. He is charged with the deportation and forcible transfer of about 800,000 Kosovo Albanians in the first half of 1999, and the mass murder of civilians in some fifteen locations throughout Kosovo – from Racak to Izbica to Suva Reka, and for the persecution of the Kosovo Albanian population on political, racial and religious grounds. The indictment qualifies those acts as crimes against humanity and violations of laws and customs of war.
Three other VJ and Serbian police generals who have been indicted for the same crimes remain at large. At times relevant for the indictment, co-accused General Nebojsa Pavkovic was the commander of the 3rd Army, whose area of responsibility included Kosovo; General Vlastimir Djordjevic was the assistant minister of the interior and the chief of the Public Security sector, and General Sreten Lukic commanded all the Ministry of Interior forces deployed in Kosovo.
After Lazerevic entered his plea, the prosecution announced its intention to file an application for a joinder of this case with the cases of Milan Milutinovic, Nikola Sainovic and Dragoljub Ojdanic, who are awaiting trial. The prosecutor noted that their "indictments and the charges are the same."
Stating that he was "not informed" about that, Lazarevic's defense counsel Mihajlo Bakrac indicated that he would be presenting the defense views on the joinder of cases and joint trial after the prosecution filed its application.
The accused Lazarevic did not have any objections to his treatment and conditions in the UN Detention Unit.