Home
DETENTION AND GUARANTEES
It is true that Milutinovic, Sainovic and Ojdanic are waiting for "a very long time" for their trial to start – which is why their defense requests their provisional release. The Trail Chamber, however, has some questions about the readiness of the Serbian government to arrest the accused if they refuse to return to The Hague for their trial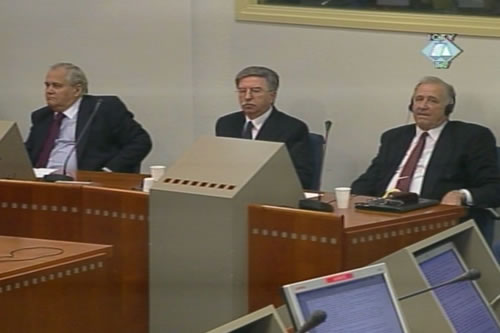 Milan Milutinovic, Nikola Sainovic and Dragoljub Ojdanic in the courtroom
Milan Milutinovic, Nikola Sainovic and Dragoljub Ojdanic have been in the UN Detention Unit for more that two years, yet the trial date has not been set. The defense therefore seeks their provisional release, for the third time. Their argument is that the reasonable time for the commencement of the trial has expired, and the Trial Chamber accepts that, but is currently assessing the credibility of the guarantees offered by the Serbian government about the measures it would take to ensure that the accused return to The Hague for their trial.
Prosecutors oppose the defense motion, although they admit that the length of the detention will be a "strong factor" in favor of granting provisional release - if the trial does not begin this year or the next. The trial date will depend on whether and when the other persons charged with the crimes committed in Kosovo in 1999 are joined with this case. Of those indictees, Vladimir Lazarevic is already in detention in The Hague, while Nebojsa Pavkovic, Vlastimir Djordjevic and Sreten Lukic are still at large.
The fact that several other indictees from Serbia have not yet been handed over to the Tribunal was the focus of the discussion at the provisional release hearing today. Serbian Justice Minister, Zoran Stojkovic, came to the hearing to assure the Trial Chamber that his government will comply with all the conditions and orders of the Tribunal related to the release of the accused and their return to The Hague.
Noting that this government has not arrested any of the accused yet, the prosecutor was particularly interested to know what was being done with regard to General Pavkovic who, as reported, publicly announced he did not intend to surrender to the Tribunal. The minister said that "everything will be done" to ensure Pavkovic's voluntary surrender or, if that failed, to arrest him. Stojkovic stated that he personally did not know where Pavkovic was, but that "organs are working on it."
Presiding Judge Patrick Robinson then suggested that the Government of Serbia should take care not to create the impression that it had unlimited patience and that it was ready to wait too long for the voluntary surrenders, because that would "damage its credibility."
Defense counsel for the former Serbian president Milutinovic, former deputy prime minister of the federal government Sainovic and former Chief of VJ General Staff Ojdanic filed their first motions for provisional release in 2002. The Trial Chamber granted it, but the decision was overturned on appeal. The second motion, filed in 2003, was also rejected.