Home
GENERAL MILETIC POSTPONES ENTERING PLEA AGAIN
Due to problems with the selection and appointment of his permanent defense counsel, former member of the VRS Main Staff – charged with crimes in Srebrenica and Zepa – seeks to postpone entering his plea for two more weeks. He had already postponed it by 30 days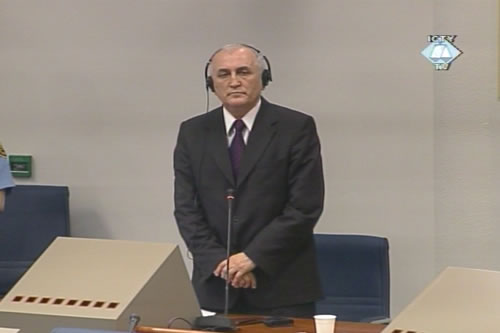 Radivoje Miletic in the courtroom
General Radivoje Miletic, former chief of operations and training and former acting Chief of Staff of the VRS postponed entering his plea by another 14 days. At his initial appearance before the Tribunal on 2 March 2005, Miletic exercised his right to postpone entering his plea by 30 days.
Together with generals Tolimir and Gvero, he is charged with the crimes committed in Srebrenica and Zepa in the summer of 1995.
Miletic sought to postpone his plea again because of the problems he had with the selection and appointment of his permanent counsel. His temporary counsel, Peter Morrissey, an attorney from Australia, notified the judge today that the accused had already met with several potential defense counsel and that he had another appointment on 5 April. After that he would be in a position to decide whom to entrust with his defense.
Pre-trial judge Van Den Wyngaert from Belgium granted the request of the accused and ordered the Registrar to schedule the third appearance for General Radivoje Miletic.