Home
VINKO PANDUREVIC POSTPONES ENTERING HIS PLEA
Former commander of the Zvornik Brigade will enter his plea on the charges of genocide and other crimes in Srebrenica within 30 days. At his initial appearance before the Tribunal, Pandurevic stated that he had come to The Hague "of his own free will and with the assistance of the Republika Srpska government"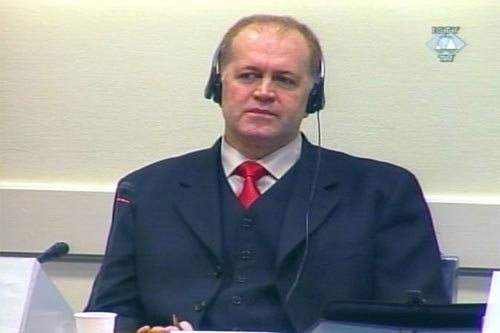 Vinko Pandurevic in the courtroom
General Vinko Pandurevic exercised his right to postpone by 30 days entering his plea on the eight counts of the indictment charging him with genocide and complicity in genocide, extermination, murders, persecution on political, racial or religious ground, deportation and forcible transfer. All those crimes, as alleged in the indictment, were committed in July 1995 in the Srebrenica area. Pandurevic was the commander of the VRS Zvornik Brigade at the time.
As Pandurevic said today, he came to the UN Detention Unit "of his own free will and with the assistance of the Republika Srpska government." He appeared in the courtroom without defense counsel, explaining that he did "not need one on this occasion", but that the procedure to appoint his permanent counsel was underway. He stated that he wished to consult his lawyer before his next appearance, in thirty days time.
His indictment, issued in November 1998, included General Radislav Krstic, former commander of the VRS Drina Corps, who has been sentenced to 35 years in prison, and Colonel Vidoje Blagojevic, former commander of the Bratunac Brigade, who is awaiting in the UN Detention Unit the decision on the appeal he filed against the first-instance judgment and sentence to 18 years in prison.