Home
ENGLISH COLONEL DEFENDS BOSNIAN GENERAL
The mujahedin were "very damaging for the BH Army and … were not under their command and control," said former UNPROFOR British Battalion commander in Central Bosnia Bob Stewart. In his opinion, the fact that General Enver Hadzihasanovic is on trial for the crimes committed by the mujahedin is "shameful."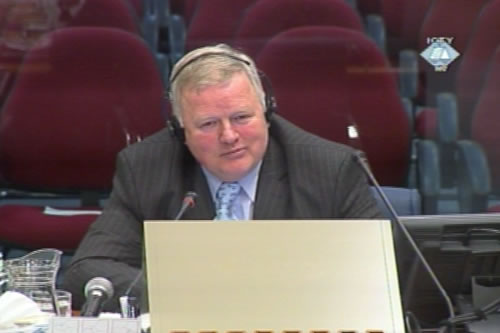 Bob Stewart, defense witness for Hadzihasanovic
The fact that General Enver Hadzihasanovic is on trial for the crimes committed by the mujahedin is "shameful" since the former BH Army 3rd Corps commander was "not their superior officer", says former commander of the UNPROFOR British Battalion in Central Bosnia Robert Stewart.
"The mujahedin were certainly not part of the BH Army," claims Stewart, who was called to testify by Hadzihasanovic's defence. He served in Bosnia from November 1992 until May 1993. "They were very damaging to the BH Army and, as far as I know, they were not under the BH Army's command and control," the British colonel said, referring to information he obtained from "a source [he] trusted fully," but whose name he did not want to share with the public.
Prosecutor Stefan Wespy showed the witness a number of documents and witness statements the prosecution has used to prove the connection between the BH Army and the mujahedin. Among them was a statement made by a leader of the foreign nationals based near Travnik, Abdel Aziz, in the summer of 1992, who said they were "operating under the leadership of the Muslim forces" in Bosnia. A report made by Stewart's British Battalion in January 1993 was read out, which concludes that the 7th Muslim Brigade troops deployed near Travnik "consider themselves to be mujahedin." Stewart noted that he was not aware of that report, because he was in Gornji Vakuf in that period. Prosecutor Wespy also quoted Hadzihasanovic's letter to the HVO from April 1993 in which the accused complains about foreign nationals being maltreated at HVO checkpoints.
When the prosecutor asked him if this evidence changed his opinion about the links between the mujahedin and the 3rd Corps, Stewart replied that he "does not change [his] view that the mujahedin group was not under operational control" of the BH Army, although it "might and might not have been connected with the BH Army in terms of support". Stewart adds that he accepts that there were foreign individuals who operated together with the BH Army or the HVO.
In his examination-in-chief, Stewart said he "had a great deal of esteem and respect" for Hadzihasanovic, who was carrying out his duty as a commander "under tremendous pressure and with very little means'. The prosecutor then noted that during his testimony at the trial of Dario Kordic five years ago Stewart stated that he "did not know whether to trust Hadzihasanovic… whom he did not particularly like." The witness says that he has been thinking about Hadzihasanovic since then and concluded that [he] never noticed any signs of perfidy in him.