Home
WHO IS RESPONSIBLE FOR PROSECUTING CRIMES?
Enver Hadzihasanovic's defense is trying to prove that district military prosecutors and district military courtS were responsible for investigating and punishing crimes committed by BH Army personnel. Hadzihasanovic has been charged with failing to punish his subordinate soldiers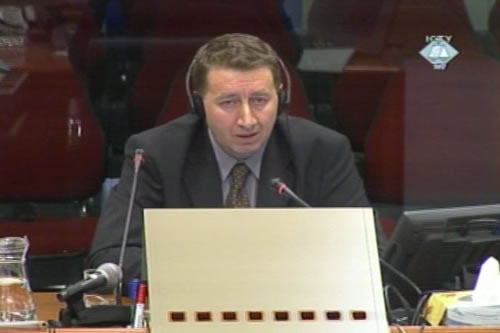 Hilmo Ahmetovic, defense witness for Hadzihasanovic
The defense counters the charges that the former 3rd Corps commander is responsible for the failure to punish the crimes of his subordinates by saying that the district military prosecutor's office and the district military court in fact were responsible for investigating and punishing crimes committed by the troops in Central Bosnia.
"Military units could not influence the work of the military prosecutor's office and the military court," Hilmo Ahmetovic said. He is a former investigating judge at the Zenica District Military Court. He was called by the defense to testify at the trial of Enver Hadzihasanovic.
The prosecutors in the Hadzihasanovic case have alleged that the 3rd Corps had the duty to report the perpetrators of crimes in its ranks to the military prosecutor, but that such reports were not made when the victims were Croats and Serbs. Most of the report were filed for disciplinary infractions by BH Army troops.
The defense of Hadzihasanovic and his co-accused Amir Kubura, who commanded the 7th Muslim Brigade, showed documents indicating that BH Army personnel had been punished for looting abandoned Croat houses.
In the cross-examination, the prosecutor wanted to know whether the witness – who became a military judge in Zenica in the fall of 1993 – had ever received any reports about the abuse of prisoners in the Zenica Music School or the looting in Vares. Ahmetovic said that he had not received any information about those events at the time.
The prosecutor also wanted to know for how long Hadzihasanovic's Corps had been in charge of the prisoners held in the Zenica Penitentiary and Correctional Facility in 1993. Noting that the Corps was responsible only for the prisoners arrested by the Corps's sodiers, the witness explained that the responsibility of the 3. Corps ceased when the prisoners were handed over to the military court and when the judge ordered their detention.