Home
CRIME AND PUNISHMENT
In August 1993, BH Army 3rd Corps commander received a report of a crime committed against a group of Croat prisoners in Bugojno but at the same time he was told that the perpetrators had been punished, the defense argues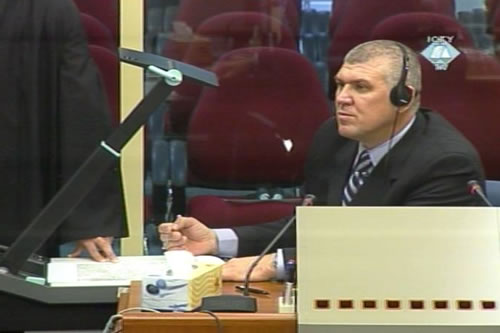 Fehim Muratovic, witness in the Hadzihasanovic and Kubura trial
In August 1993, the BH Army 3rd Corps commander received a report about a crime committed against a group of Croat prisoners in Bugojno, but at the same time he was told that the perpetrators had been punished, the defense argues at the trial of the former commander of the 3rd Corps, Enver Hadzihasanovic. He is charged by the prosecutor with failure to punish unlawful detention and beating of prisoners at several locations in Bugojno.
Two military security service members in the 3rd Corps visited Bugojno in August 1993 to check whether the BH Army brigade there was complying with the Geneva Conventions. They testified about it at Hadzihasanovic's trial. Fehim Muratovic and Edib Zlotrg state that a colleague from the 307th Brigade in Bugojno notified them that "there was an incident, that two BH Army soldiers beat six HVO members and that one of them died, unfortunately." They were also told that a criminal report would be filed against the perpetrators. They forwarded the information to the 3rd Corps command.
When the prosecutor asked them to clarify if they had personally checked about the actual punishment, the witnesses stated that they "had no reason to doubt" that the punishment was actually meted out. They add that they did not visit the Croat prisoners to see the conditions they were in. They note that the Bugojno War Presidency was responsible for the accommodation of prisoners, not the BH Army.
In the course of the prosecution case, former prisoners testified that prisoners had been beaten in several detention facilities and that about 300 detainees had been gathered in august 1993 at the Iskra stadium in Bugojno, where they remained until their exchange in April 1994. The conditions there were bad and they were taken to dig trenches.