Home
INFORMATION OR DISINFORMATION
Former Chief of Staff of the UNPROFOR Commander confirmed the thesis of Enver Hadzihasanovic's defense that there had been no reliable information about the crime in Dusina. The defense argues that the accused had no reason to doubt the reports he got from the field and that he therefore did not launch a broader investigation into the Dusina incident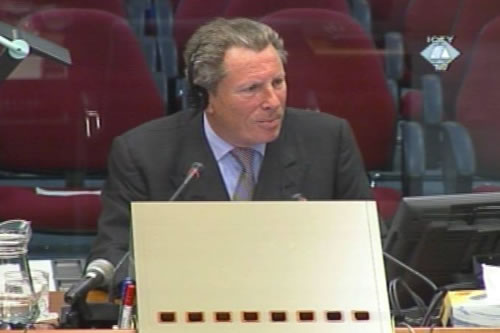 Roderick Cordy-Simpson, defense witness for Hadzihasanovic
British General Roderick Cordy-Simpson, who served as the Chief of Staff of the UNPROFOR Commander in early 1993, confirmed that there had been no convincing information that BH Army troops had committed a crime in the village of Dusina in the Lasva valley.
Hadzihasanovic has been charged with his failure to punish the killings of captured HVO soldiers and one civilian in Dusina in the course of the operation to gain control of the 'Lasva knot' in January 1993.
Cordy-Simpson chaired a meeting with BH Army and HVO representatives, trying to get the parties to agree to a cease-fire, when the HVO commander Tihomir Blaskic got a message "that some of his troops were massacred in a village," Simpson said. Blaskic left the meeting and Cordy-Simpson asked Hadzihasanovic's deputy Dzemo Merdan to investigate what had happened.
The next day, on 27 January, they all gathered again in Kiseljak. Merdan reported – as he already testified at this trial – that the persons had been killed in fighting. "Blaskic stayed at the meeting, as he was apparently happy with the information," Cordy-Simpson said.
The defense is trying to prove that Hadzihasovic had no reason to doubt the reports from the field (and neither had UNPROFOR) and that therefore he did not launch a broader investigation into the Dusina incident.
"There was a lot of misinformation in that period, for instance, about BH Army attacks on the HVO, in order for the negotiations in Geneva to fail," the witness noted.
The prosecutor showed the witness a report from the 3rd Corps, signed by Hadzihasanovic, dated 27 January 1993, which says that "the Lasva area has been cleansed by the HVO." When asked whether he still thought that Blaskic presented misinformation , the witness stated that he "accepts that the document suggests something else, but that he did not see it at the time."
Just as former British Battalion commander Bob Stewart, who testified last week, Cordy-Simpson stated that he "did not see or receive any reports about the presence of organized mujahedin forces in Central Bosnia," but only about "individuals". Both British officers ended their tours of duty in Bosnia in late April 1993, at the time when the mujahedin committed the first murders of civilians that Hadzihasanovic is now charged with.