Home
"NO ONE EVER COMPLAINED" ABOUT MALTREATMENT
Enver Hadizhasanovic's defense witness, Osman Menkovic, states that none of the prisoners in the Travnik barracks or their families complained about the treatment of the prisoners in the Travnik barracks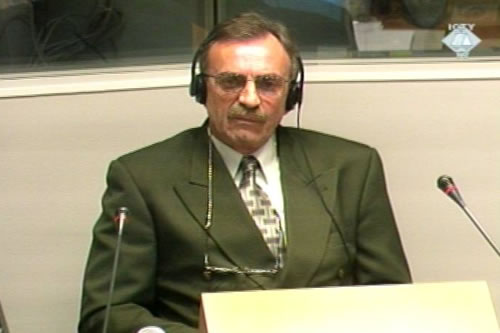 Osman Menkovic, witness in the Hadzihasanovic trial
A commander of the BH Army military police that had guarded the prisoners in the Travnik barracks in 1993 claims that "no one had ever" complained to him about the maltreatment of prisoners in the prison.
The defense argues that if the information about the abuse of the Croat and Serb prisoners, including civilians, in the Travnik barracks never did reach the senior officers in Travnik and the Corps headquarters in Zenica, then the former commander of the BH Army 3rd Corps, Enver Hadzihasanovic, should not be considered criminally responsible for his failure to prevent and punish those crimes.
Former MP commander in the Bosnian Krajina Operational Group, Osman Menkovic, stated that none of the prisoners, their families or International Red Cross representatives had ever complained about the treatment of prisoners in the barracks. When the prosecutor later asked if he was sure about that, the witness clarified that he, "as the MP company commander, never did receive any complaints."
In the course of his testimony, the defense tendered into evidence documents on criminal reports against BH Army members that have been filed with the military prosecutor by Menkovic's military police. The defense is trying to prove that BH Army was trying to fight crime and lack of discipline in its ranks.
Prosecutor Tecla Henry Benjamin is noting, however, that most of these reports dealt with a single crime – theft, and that there were no reports filed for plunder and destruction of houses perpetrated by BH Army personnel. In the course of its case last year, the prosecution was arguing that the BH Army in Travnik did file reports with the prosecutor's office, but that they had not concerned the crimes against Croat and Serb civilians and prisoners.
Witness Menkovic stated that, if one took into account the fact "that the BH Army at the time fought on two fronts", then it must be concluded it had filed reports "against an extremely large number" of its own soldiers. "I had some bad experience with the commanders whose soldiers had ended up in jail, but my commanding officer [Mehmed Alagic] insisted that we fight crime," the witness said.