Home
MILOSEVIC'S "FRENCH CONNECTION"
After a series of Russian witnesses and Serbian Academy members, Slobodan Milosevic calls to the witness stand his sympathizers and followers from France; they were at one point granted the "citizenship of the Republic of Serbian Krajina" by Milan Martic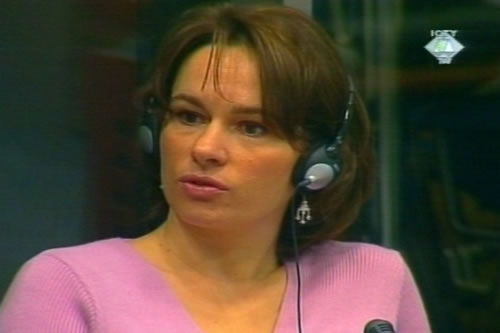 Eve Crepin, defense witness for Milosevic
At one point, Judge Robinson described the dialogue today between Slobodan Milosevic and his first defense witness this year, French nurse Eve Crepin, as "chit chatting while having tea on a veranda". As the judge warned the accused, this would not be of great use for his defense.
Although she was announced as a "fact witness", Eve Crepin mostly testified about the impression she had gained as a nurse in UNPROFOR or various humanitarian organizations in 1994 and 1995 in BH and the then Republic of Serbian Krajina and later in 1998 in Kosovo. She spoke about how in 1990 Serbs in Croatia had "lived in a situation of terror", exposed to discrimination and violence, and constant fear that they would once again be subjected to what they had been through in World War Two. According to her, UN personnel in BH were most gravely affected by the constant "Muslim sniping attacks" which killed many "blue helmets". The media claimed that Serbs were responsible for the killings, but everybody in the field, Crepin claims, "knew that it was Muslims." Although she was not in BH at the time, the witness claims she "knows" that "Muslims were responsible" for the shelling at Markale in February 1994, since "all the officers in the field" had told her so.
While she worked as a nurse in the Glina hospital in the summer of 1994, Crepin, as she claims, did not witness "any case of discrimination against Croat or Muslim patients". Quite the contrary, she recalls that a pregnant Muslim woman "got all the blood for transfusion that remained in the hospital". Four years later, in the hospital in Pec, her patients, as she recounts, were "either Serbs wounded in KLA attacks or moderate Albanians who had been beaten by KLA members" because of their suspected collaboration with Serbs. Crepin "never saw any Serb attack an Albanian" nor did she ever notice "any hatred towards Albanians" among Serbs. On the other hand, Serbs were hated by everyone: Croats, Albanians, the Western media and the Western non-governmental organizations that were providing assistance exclusively to Croats, Muslims and Albanians. Crepin was not aware of any Western NGO that was helping Serbs.
In a brief cross-examination conducted by Chief Prosecutor Carla del Ponte, Eve Crepin confirmed that in addition to her French citizenship she had the citizenship of the Republic of Serbian Krajina. She received it from President Milan Martic, together with Patrick Barriot, the next French witness to be called by Slobodan Milosevic. Crepin said the cizenship was "a sign of appreciation on the part of those people for the assistance and support we had given them in those difficult times".