Home
ACCUSED BRALO IN THE HAGUE
Miroslav Bralo transferred to The Hague, where he will enter his plea to charges of murder, abuse of civilians and rapes in Central Bosnia in 1993. At the Tribunal's previous trials for crimes in the Lasva valley, witnesses described Bralo as "the holy terror" and "walking horror" who boasted of his crimes.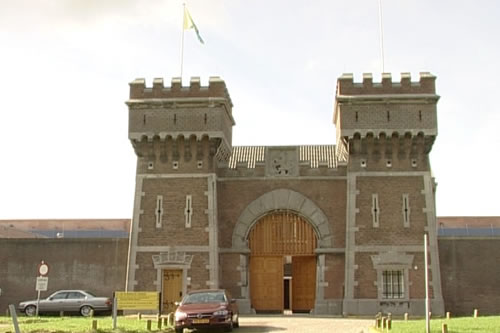 UN Detention center in Scheveningen
Two days after the news of the surrender of Miroslav Bralo a/k/a Cicko to representatives of the international community in Bosnia and Herzegovina, the accused was transferred to The Hague. He will appear before the court to enter his plea to the charges issued against him in November 1995.
Along with other cases, Chief Prosecutor Carla del Ponte again raised the issue of Bralo's arrest last week before the North Atlantic Council in Brussels. She stated that he was located in Croatia last spring, but the authorities there were reluctant to arrest him. He disappeared again.
The news of his surrender was first confirmed by the Croatian Ministry of Justice, which did not provide any details about the circumstances in which it happened. It merely noted that Bralo was not a Croatian citizen and that he had surrendered in Bosnia and Herzegovina.
The nine-year-old indictment against Bralo was unsealed on 12 October 2004 at the request of the prosecution. The former member of an HVO special unit called the Jokers--which was active in the Vitez area and participated in the April 1993 attack on Ahmici--is charged with torturing and killing three Bosniaks, the abuse of Bosniak civilians he escorted to trench-digging sites, and the multiple rape and torture of a Bosniak woman in his unit's base in the village of Nadioci in May 1993.
Cicko's commander at the time, Anto Furundzija, was charged with the rape. It was established at his trial that he was present while his subordinate sexually assaulted the woman, yet he did nothing to prevent it and to punish him. Furundzija was found guilty of aiding and abetting Cicko's crime and was sentenced to 10 years in prison in 1998.
Although his indictment was kept under seal, the name of Miroslav Bralo Cicko has been mentioned in the testimony of witnesses in other trials before the Tribunal. Prosecution witnesses at the trials of Tihomir Blaskic, Dario Kordic and Mario Cerkez, former military commander and political leaders of the HVO in central Bosnia, described Cicko as a "holy terror" and "walking horror" who, brandishing a bloody knife, boasted before detained Bosniak civilians from the Lasva valley that he had "slaughtered people in Ahmici" and that he would "slaughter them again."
According to some unsubstantiated reports, in 1997 Cicko walked onto the SFOR base in Vitez to enquire if he was on the list of people indicted by The Hague; he was erroneously informed he was not.