Home
THE BLINDFOLD PROBLEM FOR "HIGH-RISK" PRISONERS RESOLVED
Since the Dutch Ministry of Justice approves that three former KLA members no longer need to be blindfolded en route to the Tribunal, the accused return to court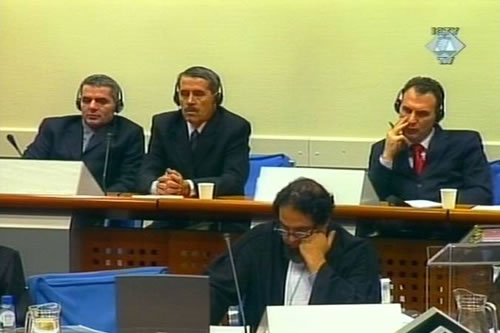 Isak Musliu, Hajradin Bala and Fatmir Limaj in the courtroom
After a one-day break, the trial continued of three former Kosovo Liberation Army commanders and officers charged with crimes against Serb and Albanian civilians in the Lapusnik camp between May and July 1998.
Yesterday, no hearing was held because the accused refused to come to court under the conditions insisted upon by the Dutch security service, which is in charge of the transfer of accused from the UN Detention Unit to the Tribunal building. The Dutch insisted that the accused must be blindfolded en route, even though Judge Kevin Parker ordered at the beginning of the trial Monday that the three Albanians should no longer be blindfolded.
One day later, on Tuesday, the Dutch complied with the order, but on Wednesday they stated that Tribunal judges could not alter the order issued by their Ministry of Justice, stipulating that Limaj, Musliu and Bala are "high-risk" prisoners with a special transfer regime--including blindfolds. This regime applies in the national jurisdiction in the Netherlands whenever such prisoners are transferred from one Dutch prison to another.
After the Tribunal Registry intervened, the Dutch Ministry of Justice changed its decision today, allowing Limaj, Musliu and Bala to be transported from the Detention Unit to the Tribunal building without blindfolds, thus resolving the problem.