Home
IN DETENTION OR "UNDER PROTECTION"?
General Enver Hadzihasanovic's defense is challenging allegations that the BH Army subjected Croat detainees in the village of Mehuric to cruel treatment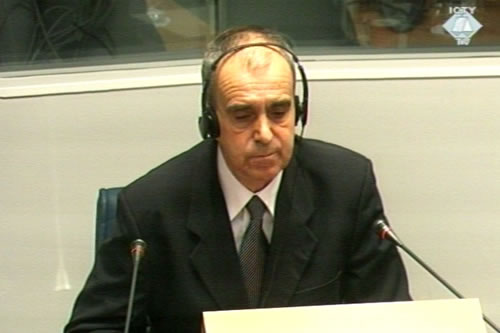 Ferid Jasarevic, witness in the Hadzihasanovic trial
The defense of General Enver Hadzihasanovic, former BH Army 3rd Corps Commander, is challenging allegations that the BH Army subjected Croat detainees in the village of Mehuric (in the Travnik area) to cruel treatment, noting that there were no cases of abuse and that the term "detainees" is not appropriate.
In June 1993, Croat civilians from the village of Maline "were transferred to Mehuric in an attempt to protect those people," defense witness Ferid Jasarevic said. He is a former morale officer in the 306th Brigade, BH Army. He states he coordinated with the Civil Defense in Mehuric the procurement of blankets and food for the people in the school gym.
"We would not call the conditions of their accommodation satisfactory in peacetime, but in wartime conditions, the accommodation was good," Enes Ribic said. He worked as a doctor in Mehuric in 1993. He added that another female doctor provided care to the civilians located in the school and she never complained they were maltreated.
The prosecution is arguing that the BH Army captured a number of Croat villages in the Travnik area in a sweeping operation launched in June 1993. Non-Bosniak civilians were subsequently detained. But defense witnesses, former members of the BH Army 306th Brigade (which was active in the area northeast of Travnik), state that in June 1993, the BH Army was merely responding to HVO attempts to provoke and humiliate it, including killing Bosniaks in the village of Velika Bukovica.
The indictment against Hadzihasanovic alleges that members of the 306th Brigade kicked detainees in Mehuric and that they were beaten and threatened during interrogation. It further alleges that the living conditions were bad. People who were "under protection" confirmed those allegations in the course of the prosecution's case.
Defense witnesses testified that the men who were interrogated were not in the gym, but in a nearby area called the forge. Doctor Ribic says that no one from the forge ever sought his assistance. Haris Jusic, security officer in the 306th Brigade, testified that he had interrogated the men of military age without using force. He added that two soldiers from Zenica questioned the men from the forge, and that he was not present at all times during those interrogations. Jusic says he does not know what unit these two soldiers belonged to.