Home
AVOIDING CONFLICT "AT ALL COSTS"
Fikret Cuskic, former commander of the 17th Krajina Brigade and of the Bosnian Krajina Operational Group, headquartered in Travnik, testified that the BH Army had "put up with a lot of things" in order to avoid the conflict with the HVO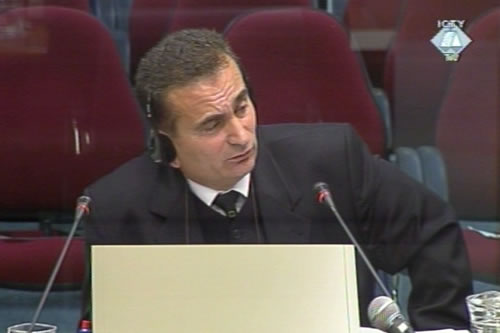 Fikret Cuskic, witness in the Hadzihasanovic and Kubura case
The BH Army was trying "at all costs" to avoid the conflict with the HVO in 1992 and especially in 1993, when HVO provocations grew into outright clashes, Fikret Cuskic said today. He is a former commander of the 17th Krajina Brigade and of the Bosnian Krajina Operational Group, headquartered in Travnik. Cuskic is testifying as a defense witness at the trial of General Enver Hadzihasanovic, who was his superior at the time as the commander of the BH Army 3rd Corps. Hadzihasanovic is charged with crimes against Croats and Serbs in his area of responsibility.
"We gravitated towards Croatia, it was only natural because our families lived there and in Bosnia we had a common enemy," Cuskic said. He left the JNA in 1991 and joined the Croatian Army. In the spring of 1992, in Croatia, he trained Bosnians who had arrived from Western Europe and took them to BH. In August 1992, he was sent to Travnik where the situation was very difficult, bordering on chaos, because tens of thousands of refugees from Bosnian Krajina were coming into the area.
After BH Army members were subjected to abuse at checkpoints in Herzegovina and Central Bosnia in 1992, with the HVO confiscating their equipment and food, detaining and beating Bosniaks and Croats in the BH Army, in early 1993 the hostilities intensified, the witness states. "It was obvious that the HVO top was treating the BH Army as an enemy armed force," Cuskic says. "Dario Kordic [a Herceg-Bosna official] said that Travnik would be the capital of Herceg-Bosna," and "the HVO occupied all the hills around Travnik, training their weapons on the town," the witness testified. He added that the BH Army had "put up with a lot of things" at that time in order to avoid conflict.
Even after the HVO offensive in April 1993, when the massacre in Ahmici was carried out and the tensions became "red hot", the BH Army, as the witness testified, "managed to prevent, with great difficulties, its soldiers from starting indiscriminate conflicts with the Croats."
Cuskic's testimony will continue on Tuesday.