Home
MASSACRE ON THE BUS
Dramatic and poignant testimony: one of the few survivors of the massacre of captured Bosniaks from Ahatovici (near Sarajevo) on 14 June 1992 testified today at the trial of Momcilo Krajisnik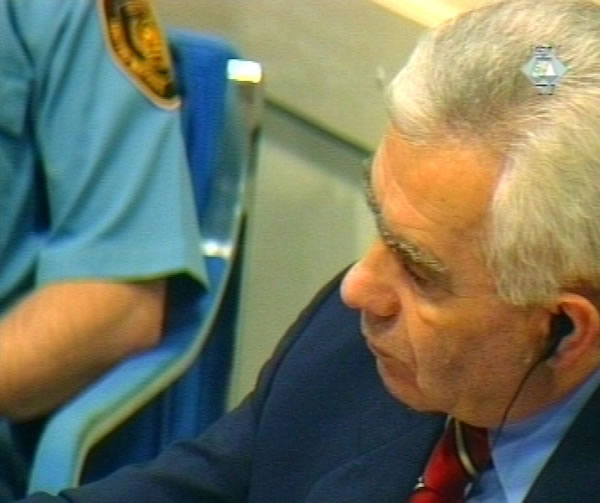 Momcilo Krajisnik in the courtroom
Of the 56 captured Bosniaks who were taken from a hangar in the Rajlovac Air Base on 14 June 1992, only eight survived the massacre on the bus somewhere on the road from Sarajevo to Olovo. One of the survivors – Elvir Jahic from Ahatovici, a suburb of Sarajevo – testified today at the trial of Momcilo Krajisnik, the former Bosnian Serb political leader charged with genocide and other war crimes in BH.
Elvir Jahic testified that his calvary began two weeks before the massacre on the bus – in late May 1992 – when "the aggression against Ahatovici was carried out." Ahatovici was a suburb where Bosniaks made up more than 90 percent of the population. After the four or five day shelling, Jahic said, forces he described as "Chetniks" broke through defense lines on 2 June 1992. About a hundred civilians who had organized the defense themselves manned the defense lines. Jahic tried to leave the village with a group of local residents, but as they were crossing an open area, small arms and artillery fire opened on them. About 20 Bosniaks were killed, and about a dozen went missing. Jahic surrendered to the attackers with the rest.
Jahic recognized several of his neighbors among the attackers. He listed their names in the courtroom. After tying the Bosniaks' hands with barbed wire and loading weapons (which they emptied of ammunition) onto their backs, the attackers forced the Bosniaks to walk towards the barracks located in the neighboring suburb of Bojnik. Throughout their journey, they were beaten, spat on, pelted with stones and insulted. Before the shop in Bojnik, their hands were untied and they were ordered to strip down to their underwear and lie face down on the ground, spread-eagle. They were then beaten for an hour or two with rifles, iron bars, police batons and bottles--anything their abusers could lay their hands on. Among his tormentors, Jahic recognized several schoolmates, who he also named in court.
From Bojnik, Jahic and the other prisoners were taken to Rajlovac. Before they were placed in detention in one of the hangars, they had to run a gauntlet of Serb soldiers who beat them. The first three or four days, Jahic testified, the prisoners did not get anything to eat. Then, three loaves of hard and moldy bread were thrown in for about 100 detainees--"as if we were dogs." Jahic and the other detainees were taken out and interrogated. During the interrogations, Jahic said, they were abused in order to "force them to make some senseless confessions about the mujahedin, the HOS, about their pay…."
Of the initial hundred or so detainees, 56 remained after two weeks in the hangar. On 14 June, they were all put on a bus. Since at a certain time they were told to lie down on the floor, Jahic did not know where exactly they were being taken. He assumes that it was the road from Sarajevo to Olovo. At one point, they stopped. The driver and the guards escorting them left the bus. Then, as Jahic recounted, "devastating explosions" were heard. The bus was first hit with three grenades fired from hand-held launchers, then about a dozen hand grenades were thrown in. There was also intense small arms fire.
"I did not have any idea how long it all lasted, whether I was alive at all. Body parts, shrapnel, bullets were flying everywhere; there was blood all over me. I was hit by skull pieces, hair…."
When the shooting stopped and he heard that the cars escorting them had left, Jahic managed to get off the bus and crawl to a nearby stream. He was seriously wounded. In order to cut his suffering short, he decided to kill himself. He removed his belt, made a noose and put it around his neck. He wound the other end around his arm, but as he was tightening it, the buckle broke. He then put his head into the stream, which was about half a meter deep, took a stone and started beating himself on the head, hoping that he would lose consciousness.
He failed. He survived and got his chance to testify about the massacre on the bus at the trial of Momcilo Krajisnik. His testimony continues tomorrow.