Home
INTIMIDATION, LAY-OFFS AND CAMPS
Prosecutors are trying to prove that Prnjavor's non-Serb population in1992 was terrorized at the instigation of the SDS—the party in which the accused Momcilo Krajisnik was a high-ranking official. Prosecutors have presented one-third of their evidence at the Krajisnik trial; they are expected to rest their case next spring.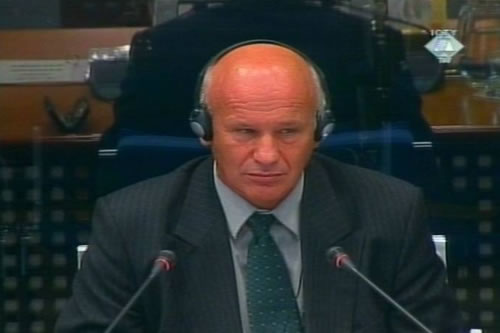 Jasmin Odobasic, witness in the Krajisnik case
Attacks on the Bosniak and Croat population in the municipality of Prnjavor in 1992 were carried out under the auspices of the SDS – this is the prosecution's case against former Bosnian Serb political leader Momcilo Krajisnik. He is accused of having played a leading role in the planning and implementation of a campaign of persecution and genocide in Bosnia and Herzegovina.
Witness Jasmin Odobasic, currently a member of the BH State Commission for the Missing, witnessed events in Prnjavor in 1992. He described how a paramilitary group, the Vucjak Wolves, terrorized non-Serbs without ever incurring any punishment. Instead, he said, SDS authorities implemented a campaign of firing non-Serbs and confiscating their apartments.
Odobasic testified the villages of Lisanj and Puraci were attacked in order to disarm Bosniaks; six civilians were killed in the attack, including four young men aged between 16 and 20. After the attack, the captured Bosniak men were taken to a makeshift camp in Prnjavor's Sloga factory. The SDS deputy from Prnjavor, Dragan Djuric, said about that attack that "100 balija heads would fall for a single Serb head," the witness added.
"Prnjavor is a town where 19 ethnic groups lived in the best possible way before the war," the witness noted, stating that after the SDS took over power and systematically terrorized non-Serbs, they started leaving town. But before doing so, they had to sign statements leaving all their property to the Serb authorities. Odobasic explained that until 1992, Bosniaks were the majority in town, while Serbs had the majority in the whole municipality.
Prosecutors have been trying to prove that events in Prnjavor confirm the existence of a pattern of intimidation, killings, and expulsions of non-Serbs that was carried out simultaneously and with similar methods in a number of municipalities in Bosnia and Herzegovina. The indictment alleges this was a "joint criminal enterprise," one in which the accused Krajisnik, as a high-ranking SDS official, also participated.
The prosecution has presented one-third of its evidence at the trial. It is expected to rest its case next spring. The defense will then start presenting its evidence.