Home
FROM TAKE-OVER TO EXPULSION
As the trial of Momcilo Krajisnik continues, a testimony was heard about the events in Kljuc in late 1991, when SDS members unlawfully took over power in the municipality and paved the way for the expulsion of the non-Serb population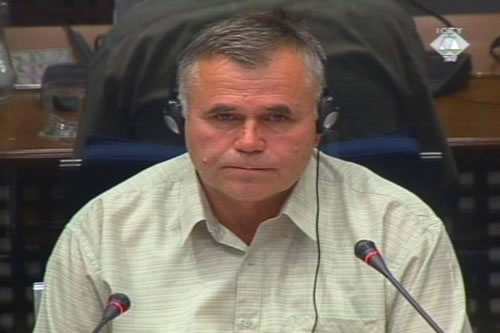 Asim Egrlic, witness in the Krajisnik case
Unlike previous prosecution witnesses at the trial of Momcilo Krajisnik, who mostly spoke about the war in BH in 1992, Asim Egrlic, former politician from Kljuc, testified about the pre-war period and the preparations for the war.
The former chairman of the Executive Council of the Kljuc Municipal Assembly described how the SDS representatives took over power in the municipality after the multi-party elections in 1990, armed the Serb population and removed all non-Serbs from the posts they occupied in the town. Following the instructions from the SDS top – according to the prosecution, Momcilo Krajisnik played a key role in the leadership, together with Karadzic – the SDS deputies annexed Kljuc to the Autonomous Region of Krajina (ARK) in late 1991. They did this, as the witness noted, without any debate in the Municipal Assembly and in the absence of the Bosniak deputies, who considered the ARK an para-state entity.
The indictment against Krajisnik covers the period between 1 July 1991 and 30 December 1992. It alleges that in the beginning of this period, Krajisnik took part in promoting and implementing the SDS policy aimed at a permanent removal of Muslims from large areas in Bosnia and Herzegovina.
In the course of Asim Egrlic's testimony, the prosecutors presented a telex message which had by mistake reached Egrlic's desk instead of that of Jovo Banjac, the president of the Kljuc municipality. The message contained the instructions from the SDS leadership to the local party leaders to "set up the town command" and to take over "the control of the public property, post office, public accounting service, banking and legal system and the media."
"This they achieved – contrary to any law, in a totally unconstitutional manner," the witness Asim Egrlic said.
The presence of the JNA and paramilitary units played a crucial role in the complete take-over of power by the SDS in Kljuc. Their threatening posture, the witness said, discouraged any attempt to change the unlawful situation. At the same time, the local media were taken over by the SDS members and were used to create an atmosphere of fear and insecurity. Thus they played an important role in paving the way for the open expulsion of the Bosniak population that followed in April and May 1992. This testimony is to continue tomorrow.