Home
ADJOURMENT IN "THE INTEREST OF JUSTICE"
Momcilo Krajisnik's defense counsel seek more time and better conditions to prepare for the defense and therefore propose that the current break in the proceedings be extended until at least 4 October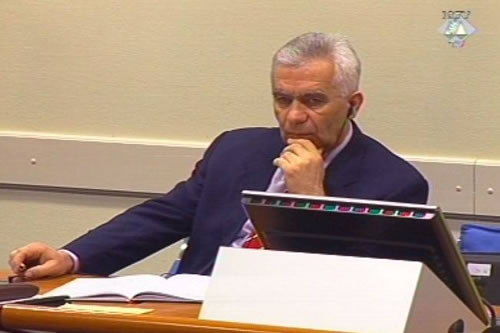 Momčilo Krajisnik in the courtroom
Momcilo Krajisnik's defense counsel seek that the current break in the proceedings against the former Bosnian Serb leader be extended until 4 October, possibly even to a later date. The accused is entilted "to adequate time and facilities for the preparation of the defense", his lawyers said in a written motion. If this is not granted, they warn, the defense will be in an inferior position in relation to the prosecution, which might result in an unfair trial.
Krajisnik's British lawyer Nicholas Stewart and his Australian co-counsel Chrissa Loukas have put forward several reasons for their lagging behind both in the preparation of the cross-examination of prosecution witnesses and of the overall defense strategy. Some of the reasons are the complexity of the indictment, the small size of the defense team and the fact that the current defense team had to take over from a previous one. Yet another problem is the communication of English-speaking lawyers with Krajisnik, who does not speak English.
A hearing at which Stewart and Loukas will present their oral arguments for an adjournment has been scheduled for Friday. The prosecution will also present their views on the matter.
The trial of the former RS Assembly speaker, charged with genocide in BH, began on 3 February and has been adjourned several times. The proceedings were last adjourned in late June and the adjournment was to last until September.