Home
"VOLUNTARY" EXILE
The moving of Muslims from the Bosnian Krajina in the summer and fall of 1992 was the result of "organized and systematic ethnic cleansing," former UN official Charles Kirudja concludes at the trial of Momcilo Krajisnik.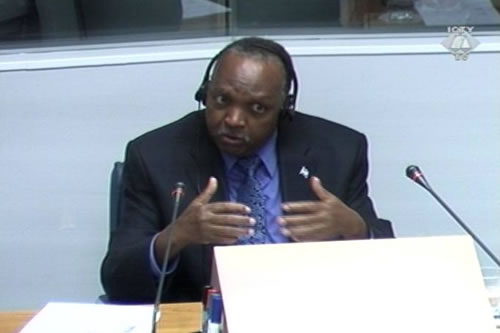 Charles Kirudja, witness at Krajisnik trial
Charles Kirudja, former UN coordinator for civil affairs in Croatia's Sector North, concluded unequivocally in the summer of 1992: "The wave of Muslim refugees passing through this zone is the result of systematic persecution and ethnic cleansing, organized with the approval and encouragement of the authorities of the Serbian Republic of Bosnia and Herzegovina."
Representatives of Serb authorities had been coming to Kirudja's office in Topusko since late May 1992, requesting that UNPROFOR and UNHCR secure the passage of convoys with several thousand "Muslims wishing to move out." At the same time, Kirudja and his associates would get information about the intimidation, night-time shooting, brutal torture, burning of houses and murders committed by armed Serb forces. They got their information from small groups of Bosniak refugees or individuals who would swim across the Una river and demand protection "at UNPROFOR check-points."
Kirudja testified today that Bosniaks "wished to move out" to save their lives. And in order for their "wish" to be granted, they had to sign documents indicating that they were leaving their places of residence "voluntarily" and leaving all their mobile property and real estate to the Serbian Republic of Bosnia and Herzegovina.
The leaders in the Serb municipalities that were part of the so-called Autonomous Region of Krajina kept coming to the office where the civil sector of the UN and UNHCR was located, asking for assistance in the "voluntary moving out" of Muslims, claiming this was a "humane gesture on the part of Serbs." Kirudja recorded the requests for the passage of a convoy with 4,000 Bosniaks from Bosanski Novi, 11,000 from Sanski Most, 8,000 from Prijedor and 600 from Bosanska Krupa, with lists of "persons submitting applications for removal" and those who "met the criteria allowing them to leave."
"Very quickly we lost all illusions about the purported voluntary removal," Kirudja said, noting that they warned the representatives of Serb authorities openly--in writing and verbally--that forcibly removing the population was a crime against humanity under international law. But they persisted in their demands that the United Nations take part in the operation by securing the convoys.
Kirudja gave his approval for the passage of a single convoy with 4,000 Muslims from Bosanski Novi after the Croatian government officially confirmed its willingness to let them come to its territory. However, instead of 4,000 Bosniaks, Kirudja estimates it was about 9,000 Bosniaks who moved out of Bosanski Novi on 22 July 1992. He says he turned down all other requests, since granting them would mean international organizations were participating directly in ethnic cleansing.
But the wave of refugees passing "through Sector North" was not halted. Every day, smaller or larger groups of Bosniaks fled from the Bosnian Krajina. Kirudja estimates that by October 1992, at least 28,000 Bosniaks moved out this way.
The indictment charges Momcilo Krajisnik with "aiding and abetting, planning and execution of persecutions of Bosnian Muslims from thirty-seven municipalities in Bosnia and Herzegovina," including Bosanski Novi, Sanski Most, Bosanska Krupa and Prijedor.