Home
MILAN BABIC BEGINS HIS TESTIMONY IN CLOSED SESSION
After deciding it is "in the interest of the public" that the former president of the former Republic of Serbian Krajina testify "live" instead of by deposition, the Trial Chamber decides his testimony should be heard in closed session. No explanation is given.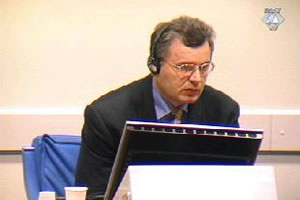 Milan Babic in the courtroom
The testimony of Milan Babic at the trial of Momcilo Krajisnik, hailed as the central event this week in the Tribunal's courtrooms, began in closed session. The Trial Chamber has so far failed to give any explanation for its decision to exclude the public from the hearing. The Press Service of the Tribunal does not know why the testimony is being heard in closed session.
Babic's forthcoming appearance as a witness at the Krajisnik trial was discussed over the past 10 days in public; neither the prosecution nor the defense ever hinted at the possibility that he might be heard in closed session. The logical assumption, therefore, is that this was done at the request of Milan Babic and his defense counsel, most likely for reasons of safety--both for the witness and his family.
The decision to hear his testimony in closed session is not only unexpected, but paradoxical in a way. The Chamber dismissed, "in the interest of the public," the prosecution's motion for Babic to testify in accordance with Rule 92bis, whereby the transcripts of both his interviews with OTP investigators and his 12-days of testimony at the trial of Slobodan Milosevic would be admitted into evidence. After the admission of the written evidence, the prosecution would then ask some additional questions and let Krajisnk's defense counsel cross-examine Babic.
The Trial Chamber disagreed with that proposal, since Babic's "written testimony" is contained in 1,100 pages of text and 87 exhibits. The judges decided that such a quantity of paper would bring into question the "principle of publicity of trial," since the public would not have access, in practice, to what was written in the documents. The Trial Chamber decided that it would be in the interests of justice for Babic to testify live--and then decided to hear him in closed session.
Milan Babic is testifying just a few days before his sentence was supposed to be delivered; it has now been postponed. The erstwhile leader of Serbs in Croatia has pleaded guilty to a count in his indictment charging him with persecution on political, religious and racial grounds and for complicity in a "joint criminal enterprise." Prosecutors have recommended that Babic be given a sentence of 11 years in prison at most.