Home
GUILTY OF COMPLICITY OR AIDING THE SREBRENICA GENOCIDE?
Judges in the case of Vidoje Blagojevic hear the prosecution's motion requesting a change in the charges. Prosecutors want the former commander of the VRS Bratunac Brigade charged with aiding and abetting genocide instead of complicity in genocide.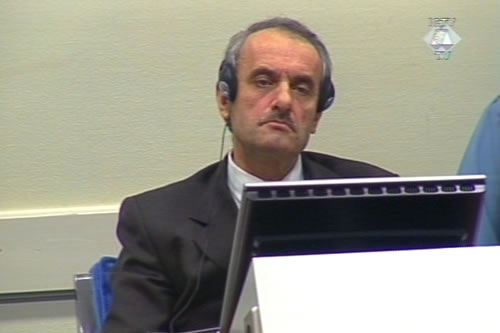 Vidoje Blagojevic in the courtroom
As the defense of Vidoje Blagojevic draws to a close, the prosecution filed a motion to amend the indictment. If the Trial Chamber grants the motion at this fairly late stage in the proceedings, Blagojevic would be charged not with complicity in genocide, but with aiding and abetting genocide. He is the former commander of the VRS Bratunac Brigade and is accused of crimes in Srebrenica.
In the original October 1999 indictment, Blagojevic was charged--together with General Radislav Krstic, former VRS Drina Corps Commander, and Vinko Pandurevic, former commander of the Zvornik Brigade--with genocide or complicity in genocide. In August 2001, General Krstic was found guilty of genocide. In January 2002, the prosecution amended Blagojevic's indictment for the first time, restricting his responsibility to complicity in genocide.
In the meantime, the Tribunal's Appeals Chamber revised General Krstic's original judgment. In April, it found him guilty of aiding and abetting genocide and reduced his sentence from 46 to 35 years in prison.
In its motion to amend Vidoje Blagojevic's indictment, the prosecution seeks to bring it in line with the Appeals Chamber's judgment in the Krstic case. As prosecutor Milbert Shin stressed at today's hearing, the judgment provides a definitive clarification that there is a certain overlap between complicity in genocide and aiding and abetting genocide, and that while complicity includes aiding and abetting, it goes beyond it.
At the hearing today, Michael Karnavas, defense counsel for Vidoje Blagojevic, reproached the prosecution for stating only now, after so many years, that his client is responsible for aiding and abetting. Karnavas feels there is no need to file an amended indictment since the Trial Chamber will be able to find Blagojevic guilty for aiding and abetting genocide even on the basis of the existing complicity charges.
In order for a person to be found guilty of complicity in genocide or aiding and abetting its commission, it is not necessary to prove that he took part in it with a specific intent (to destroy an ethnic group, or part of one, as such). It is enough to prove that the accused took part in the crimes, knowing they were committed with the intent to destroy an ethnic group in whole or in part.
The Trial Chamber will in all likelihood rule on the motion to amend the indictment before Blagojevic's defense rests. Defense lawyers have two more weeks to call their witnesses and present all their evidence.