Home
GENERAL MLADIC UNDERESTIMATED THE RISKS IN OPERATION STORM
Three weeks before the launch of Operation Storm, General Mladic received precise information about the times and directions of the impending Croatian attack on Krajina. But rather than prepare for the defense of Republika Srpska's western borders, he scolded the "messenger" who brought the news.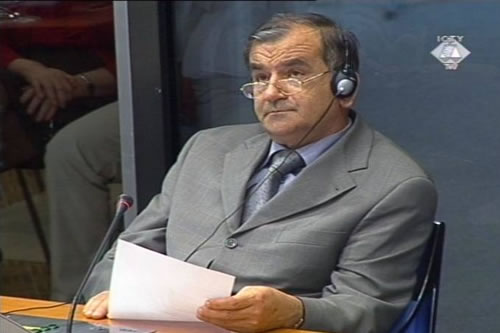 Petar Salapura, witness at the Vidoje Blagojevic trial
General Ratko Mladic was given precise information about Croatian plans for an attack on the Knin Krajina as early as 13 July 1995, but he did not believe them. Quite the contrary, he scolded the "messenger" who brought the reports – Colonel Petar Salapura, then the intelligence chief of the VRS Main Staff. He got information about the times and directions of the forthcoming Croatian attack, as well as the forces that would take part in it, from his "foreign connections" in Belgrade. Salapura says that Mladic "shouted" at him, accusing him of "overreacting," "overestimating the danger" and "spreading panic".
Colonel Salapura came to Srebrenica to convey the intelligence to General Mladic and to warn him of the risks that the 300 km long western border of Republika Srpska might be exposed to in case of a Croatian attack . He left crest-fallen, got into his car and drove away to the Main Staff in Han Pijesak.
Testifying today as a defense witness for Vidoje Blagojevic, the former commander of the Bratunac Brigade who is accused of crimes in Srebrenica in July 1995, Salapura described how the Republika Srpska Army was "unprepared for Operation Storm." It began less than three weeks after his warning to Mladic. Since the Serbian Army of Krajina was in retreat three days after the attack began, Salapura said "a large portion of the front was left undefended and the western part of Republika Srpska was at risk."
Colonel Salapura remained in Han Pijesak until 18 July. He claims that in this period, he did not have any contact with General Mladic, Colonel Ljubisa Beara (at the time, the intelligence chief in the Main Staff, accused of genocide in Srebrenica) and his immediate superior, General Zdravko Tolimir.
The testimony of Colonel Salapura will continue.