Home
MASSACRE AT THE VRHPOLJE BRIDGE
On 31 May 1992, witness Raif Begic survived the execution of some 20 Bosniak men from the villages of Gornji Begici and Donji Begici, near Sanski Most.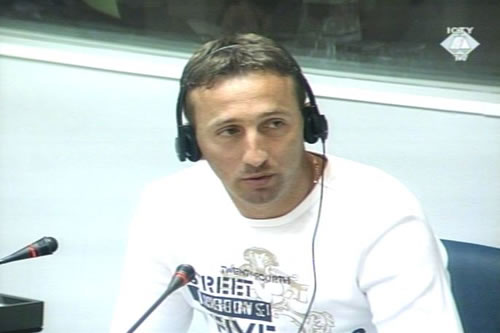 Rajif Begic, witness at Krajisnik trial
"We knew them. We had gone to school with them, played sports with them, we were neighbors," said prosecution witness Raif Begic, describing the soldiers who, on 31 May 1992, lined up some 20 men from the Bosniak villages of Gornji Begic and Donji Begici along the railing of the Vrhpolje bridge over the Sanica river (near Sanski Most). The first detainee in the line was Midhet Ceric. He was ordered to climb onto the bridge railing and jump into the river by Nedeljko Palija, one of the soldiers the witness knew. When Ceric appeared on the surface, Palija and two more soldiers also known to the witness fired their automatic rifles at him. "Then we saw his body float downriver," the witness said.
The soldiers then ordered another three detainees, including 15-year-old Mirsad Dizdarevic, to jump into the river and killed them the same way. The witness' turn came next. The water was not deep and after he dived in, he managed to remain under the bridge for a moment, take off his white shirt and let the current carry it. As the soldiers fired at his shirt from the bridge, he managed to swim underwater to the other bank and hide in the bushes. He hid on the riverbank for three or four days. He did not know at the time what happened to the remaining villagers from Begici.
The crime at Vrhpolje is listed in a schedule appended to Momcilo Krajisnik's indictment. After the exhumation of a mass grave seven years after the war, Raif Begic was able to identify the remains of seven men he knew who were with him at the Vrhpolje bridge on the fateful 31 May 1992.
Thirty women and children--Bosniak Muslims and Croats--were killed the same day in the nearby village of Hrustovo. The count charging Momcilo Krajisnik with genocide refers to the "widespread killings […] which took place during and after the attacks on towns and villages" in order to achieve the "partial destruction of Bosnian Muslims as a national or religious group." The prosecution is presenting evidence that the "widespread killings" occurred in 37 municipalities in BH, including Sanski Most.