Home
HOW TO PLUCK A THORN FROM YOUR SIDE
Enver Hadzihasanovic's defense is trying to prove that the accused did not condone the actions of the mujahedin but was in a quandary what to do about it. Witness Alistair Duncan thinks that the "thorn in his side" had to be plucked: "If the 3rd Corps wanted to solve the issue, they should have done it as soon as possible."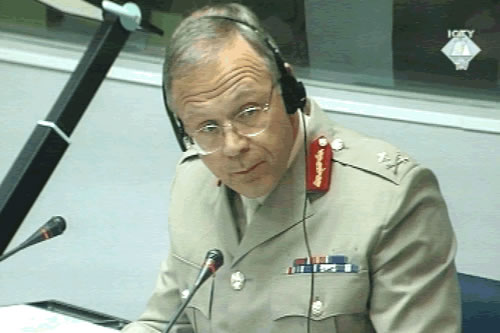 Alistair Duncan, witness at the Hadzihasanovic and Kubura trial
The defense of General Enver Hadzihasanovic – charged with crimes committed by the mujahedin in Central Bosnia – presented to the Trial Chamber a letter that Hadzihasanovic, as commander of the BH Army 3rd Corps, sent to his superior asking that the "problem of foreign fighters" be solved.
Witness Alistair Duncan, former commander of the British Battalion in Central Bosnia, stated that the accused's request showed he was a "responsible commander." Earlier in his testimony, Duncan expressed his view that the 3rd Corps had control over the mujahedin since they were "used very effectively" in combat operations.
During cross-examination, the defense presented several quotes from Hadzihasanovic's letter to prove that the "foreign fighter and local guerilla" they trained did not join the ranks of the BH Army and that the accused did not condone their actions. According to witness statements, five days earlier, on 8 June, the mujahedin executed almost 30 Croats near the village of Bikosi and tortured and killed four Croats in the village of Miletici.
"They are in my area of responsibility, but I do not want to be held responsible for the consequences of their actions," Hadzihasanovic wrote on 13 June 1993.
According to what the accused stated in his letter, the mujahedin "did not want to have anything to do with the 3rd Corps"; they wanted to communicate only with the highest command of the BH Army. In his letter, Hadzihasanovic expressed his suspicion that they had the backing of some "high-ranking state authorities and clerics" and warned that their activities were detrimental to the state and army of Bosnia and Herzegovina.
In its response a few days later, the BH Army Supreme Command ordered Hadzihasanovic to dispatch the mujahedin to Igman, "where they will link up with Zuka's unit." Should they refuse, the 3rd Corps commander had the authority to "deny them hospitality" and to disarm them if necessary.
"In his [Hadzihasanovic's] place I would be worried, because the problem would be back in my hands," Duncan commented. Hadzihasanovic was aware of the quandary in which he found himself, because he warned the command that he did not want to open a "third front" against the mujahedin since he had enough problems holding the fronts facing the VRS and HVO. According to the defense's evidence, in early 1994, the status of the mujahedin remained an open issue.
Duncan, however, considers that Hadzihasanovic "did have the means" to disarm the mujahedin. "It is all about setting your priorities," says the British general, adding, "If something that causes you great problems happens in your area of responsibility, perhaps you have to pluck that thorn from your side in order to be able to focus on military tasks. If the 3rd Corps wanted to resolve this issue, they had to do it as soon as possible."