Home
THE ATMOSPHERE OF IMPUNITY AMONG THE "LIBERATORS" OF DUBROVNIK
At the beginning of his testimony at the trial of General Pavle Strugar, admiral Miodrag Jokic described the atmosphere of lack of discipline and impunity among the JNA forces that held the town of Dubrovnik under siege and shelled its old part in the fall of 1991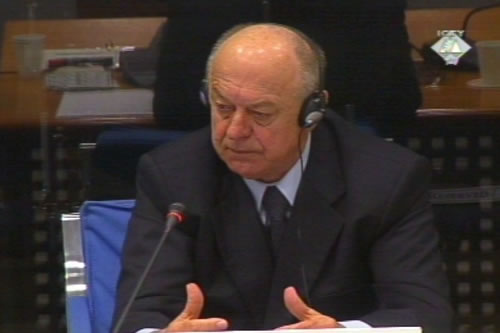 Miodrag Jokic, witness at the Pavle Strugar trial
Two days later than planned, Admiral Miodrag Jokic took the witness stand today in the trial of his former "brother in arms" – General Pavle Strugar who is accused of the December 1991 shelling of Dubrovnik. His testimony was put off twice in order to give enough time to the defense to go through over 30 hours of video and audio recordings of the interviews that the Office of the Prosecutor conducted with Admiral Jokic before and after his sentencing last week. He was given a sentence of seven years in prison, after he pleaded guilty to the same crimes that General Strugar is on trial for.
As the commander of the 9th Naval Sector of the Yugoslav Navy, Jokic was subordinate to General Strugar at the times relevant for the indictment, as Strugar was the commander of the 2nd Operations Group of the JNA and the commander of the Dubrovnik operation. Listing all the units in the chain of command at the top of which was the accused general, Admiral Jokic described in detail at the beginning of his testimony the structure of the 2nd Operations Group of the JNA and the situation he found when he took over as the commander of the 9th Naval Sector on 7 October 1991.
Jokic claims that the key feature of the situation was the extreme lack of discipline among the JNA troops deployed around Dubrovnik; half of them were reservists and volunteers. "Extremists caught up in the nationalist euphoria," described the witness. They advocated the use of force and were the first to open fire without authorization to do so, were first to plunder, get drunk and provoke the other side. Answering the questions asked by the prosecutor Susan Somers, Jokic described the atmosphere of impunity that reigned and said that "it was difficult to control the troops in their positions in combat contact with the Croatian side."
The 3rd Battalion of the 472nd Motorized Brigade, also subordinate to Jokic, was particularly unruly, particularly after Captain Vladimir Kovacevic Rambo took over as the commander of the unit. Jokic described Kovacevic as a well-trained, capable and "excessively brave" officer who was however "not mature enough to command a unit of that strength" (around 700 soldiers). Kovacevic has been charged with the shelling of Dubrovnik and is currently in the UN Detention Unit, awaiting to be committed to a psychiatric institution for treatment, after he was determined to be unfit to enter his plea on the counts of the indictment.
Admiral Jokic confirmed the authenticity of a number of documents shown to him by the prosecutor, mostly orders issued by the 9th Naval Sector command in which he and his officers tried to improve discipline in the subordinate units. He said that General Pavle Strugar was also unhappy with the state of the subordinate commands, because despite the efforts to "improve the situation, the problems persisted."
The testimony of Miodrag Jokic, which should last six full days, will continue tomorrow.